Alamo Drafthouse Ticket Prices
Alamo Drafthouse Cinema is a smaller U.S. theatre chain known for enforcing strict etiquette standards for behavior in its theaters. As of 2019 there were nearly 50 locations in 25 cities, and over a dozen states.
Below are the latest Alamo Drafthouse Cinema prices. Want to buy tickets now? Buy them online from Alamo Drafthouse..

AGE
TICKET PRICE

Movies

Children (Ages 6-11)
$8.50 - $12.50
Adults
$10.50 - $17.50

Military, Student, and Senior discounts range from location to location, and must be purchased at the theatre.

Movies (matinee)

Children (Ages 6-11)
$7.50 - $10.50
Adults
$8.50 - $15.00

Movies (Tuesday - Select Locations)

Children (Ages 6-11)
$5.00 - $12.00
Adults
$5.00 - $12.00

3D Movies

Children (Ages 6-11)
$10.50 - $19.50
Adults
$12.50 - $19.50

Partners

[the_ad_group id="34"]

3D Movies (Matinee)

Children (Ages 6-11)
$9.50 - $12.50
Adults
$10.50 - $17.00

Your rating

What are you thinking?

Tell them

[addtoany]

Disclaimer: We are not affiliated with the theater. Prices should only be used as a guide. Please contact your local theater for accurate pricing.
Prices are updated for 2023.
History of Alamo Drafthouse Cinema

Founded in Austin, Texas in 1997, Alamo Drafthouse Cinema started as a theatre that played second-run movies, and served food and drinks (including beer). This served as the only location for 4 years until 2001 when a second location was opened which played first-run movies. Just 2 years later, Alamo Drafthouse opened its third and fourth locations, with the fourth location being licensed to a franchisee.
The company was started by a couple from Austin, Tx, but in the mid-2000s was sold to a group of individuals. The founding couple maintains rights to a number of Austin locations. In 2010, one of the original founders was brought back as CEO.
In 2003, the first Alamo Drafthouse outside of Austin was opened in Houston, however that location has since closed in 2012. The company opened its first location outside the state of Texas in Winchester, Virginia in 2009. Today the total number of locations are split fairly evenly between Texas and other states.
As of 2019, Alamo Drafthouse operates in Arizona, California, Colorado, Connecticut, Florida, Missouri, Nebraska, New York, North Carolina, Texas, Virginia, and Wisconsin.
Etiquette and Code of Conduct
Alamo Drafthouse is widely known for its stringent rules for moviegoers at all of its locations. They tout a zero tolerance policy for disruptions during movies, as well as stances for safety and against harassment. According to their website, some of their primary policies include:
A documented Code of Conduct
Zero tolerance for talking or using a cell phone of any kind during films
Guests cannot enter the theater after the movie has begun (can still come in while trailers are playing)
To minimize distractions, infants and small children are usually not allowed (except during certain, designated showings)
According to Alamo Drafthouse, these policies are in place to protect and preserve the moviegoing experience for its guests as well as respect the art of the filmmakers. And they enforce their policies!
Theatergoer kicked out for texting during movie.
Customer kicked out for texting.
And they even created a PSA from a voicemail left by an angry patron!
Food and Drink at Alamo Drafthouse
Another factor that has differentiated the Alamo chain from its competitors is its innovative food and drink offerings served to you in your seat. Options include appetizers, salads, sandwiches, pizza, entrees, shakes, and desserts. They also offer a kids menu and a vegan menu. Alcohol choices include draft beer, liquor and custom cocktails (including movie-themed concoctions), and boozy milkshakes. But don't worry, you can still get popcorn, chocolate, and sugary candies!
How Much Do Alamo Drafthouse Tickets Cost?
Alamo Drafthouse Cinema ticket prices, you may have noticed, are a little above the average ticket price offered by other theater chains. The reason why Alamo theater prices are higher is simply because of the higher quality movie experience, and for their overall cinema atmosphere. Reserved seats, high quality food and drink, and an uninterrupted moviegoing experience are all good reasons to see a movie at Alamo.
Each Alamo location determines ticket pricing as well as matinee times. Some locations have matinee pricing only on the first showing of the day, others only 2pm, while others offer the discount on shows until 5pm. And pricing can vary depending on day of the week with some locations offering $5 Tuesdays, and others discounting prices Monday – Wednesday.
For specific pricing on your local Alamo Drafthouse tickets, we recommend you head to Fandango or visit the Alamo website to see the details for your nearest location.
Military, Student, and other discounts
Most Alamo Drafthouse Cinemas offer discounts for both active military personnel, students, and senior citizens with valid IDs. Each location's policies differ, and, unfortunately, you must purchase your tickets at the theatre to receive the discount (no online purchase discounts for military or students) since ID is required.
Additionally, Alamo Drafthouse offers discounts for guests with disabilities, and a some locations provide special pricing for members of regional or local film societies. For example, Austin locations discount tickets for members of the Austin Film Society, or attendees of the Austin Film Society Festival.
For example, here is a snippet on ticket pricing for their Lakeline, Austin location:
General Admission (Thursday through Sunday and select opening nights): $12.50 (2D), $16.00 (3D)
General Admission (Monday through Wednesday): $12.00 (2D), $15.50 (3D)
Matinees (before 5pm): $9.50 (2D), $13.00 (3D)
Student, seniors, children (6-11), military personnel, Austin Film Society/Festival members, and Guest with disabilities: $9.50 (2D), $13.00 (3D).
Whereas, here are their same ticketing policies for the Brooklyn, NY location:
General Admission: $17.50
3D Admission: $19.50
Matinee (1st show of the day): $13.50
Students: $11.50
Seniors/Military/Guest with disabilities: $12.50 General, $14.50 3D
As you can see, their policies differ significantly. However, since there are not many locations, once you learn the policies of the location nearest you, it should be easy to remember. And as you can see, you could be saving nearly 50% of the cost of a regular priced ticket if you visit the cinema on a certain day, or a matinee showing. For a list of all the participating cinemas, as well as the specific discounts they offer, click here.
Alamo Victory
Many companies in various industries around the world have created some sort of loyalty or rewards program to entice their customers to keep coming back. Alamo Drafthouse is no different.
Alamo Victory is a free program that offers members a variety of opportunities to earn points through purchases, then claim rewards for those points. They even guarantee at least 3 FREE MOVIES a year, screenings and surprise offers to Victory rewards members!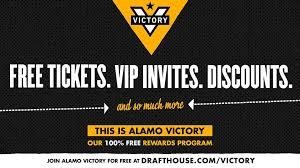 Alamo Victory differs from many theatre rewards programs in that members can achieve tiers by earning more points through the year, and each tier provides additional benefits.
Citizen
Free Screenings – Invites to free surprise screenings at least twice (2x) each year
(1) Free Birthday Ticket
Free 30 days of curated movie streaming on MUBI
Fighter
All Citizen level benefits, plus
One Buy One, Get One Free Non-alcoholic milkshake
Free 90 days of curated movie streaming on MUBI
Captain
All Fighter level benefits, plus
(1) Free Birthday Ticket with Free Popcorn
Free Snack Voucher when you hit Captain Level
Commandant
All Captain level benefits, plus
(1) Free Birthday Ticket with Free Popcorn & Soda
One Buy One, Get One Free Entree Item
Invites to Advance Screenings
Top Brass
All Commandant level benefits, plus
(2) Free Birthday Tickets
Free Pizza or Burger when you hit Top Brass Level
Invites to all Advance Screenings
Exclusive Top Brass-only celebration
Joining the Alamo Victory is completely free and you can sign up in-person at a cinema, through their app, or on the Alamo website.
IMPORTANT NOTE: Victory Members will only receive credit for tickets purchased directly at Drafthouse theaters, through Drafthouse.com and the Drafthouse mobile app.
Victory Vanguard

Victory Vanguard is a membership program for guests aged 15-17. Member benefits include:
Permission to attend any Alamo Drafthouse screening without a parent or guardian
$5 tickets to any regular 2D screening at any Alamo Drafthouse
Invitations to special members-only events and screenings
Alamo Season Pass (Beta)
Alamo is beta testing a "season pass" option in certain locations which offers members the chance to see more movies for one low monthly price. Current season pass locations include Yonkers, NY, Raleigh, NC, Littleton, CO, and Denver, CO. Season Pass members can use the Alamo Drafthouse Mobile App on iOS or Android to reserve a seat in advance from anywhere (not just at the theatre). Companion tickets may also be purchased at the same time.
It is a beta test, so Alamo will be testing different pricing structures and benefits to those who are invited to join.
Unique Cinema Locations
As we've mentioned, Alamo Drafthouse Cinema has nearly 50 cinemas. Many of their locations provide special theatergoing experiences due to the uniqueness of the building in which they operate — one of the things Alamo likes to do is renovate historic buildings for their theaters in order to offer patrons a more enjoyable, traditional moviegoing experience.
So we went on a mini-mission to find out which of these cinemas are the most interesting.
Here are a few of the most interesting Alamo Drafthouse Cinema locations we were able to find:
Alamo Drafthouse New Mission: 2550 Mission Street , San Francisco, CA 94110 includes the Video Vortex video rental store
Alamo Drafthouse South Lamar: 1120 S Lamar Blvd. , Austin, TX 78704 where MONDO began by printing t-shirts in the lobby
Alamo Drafthouse Mainstreet: 1400 Main Street , Kansas City, MO 64105
Alamo Drafthouse Downtown Brooklyn: 445 Albee Square West , Brooklyn, NY 11201
Alamo Drafthouse Mueller: 1911 Aldrich Street, Suite 120 , Austin, TX 78723
If you want a unique moviegoing experience, Alamo Drafthouse is the way to go. Their founders are lovers of everything about movies and theaters, and aim to provide the best experience possible for their patrons. Just check out reviews for any location, and you'll see solid 4+ stars. Alamo is absolutely making a difference to the people who expect a little more than a typical trip to the movies at a standard theater chain.
Conclusion
If you're lucky enough to live in a city with an Alamo Drafthouse, and have never had the pleasure to see a movie there, run, don't walk, and see any of the latest releases. Or if you're up for an extra special treat, see if you can catch one of their special engagements or one of their Experiences (you'll have to join their membership rewards program for the full Experience treat). And part of their draw is the attention to detail in state-of-the-art technology and ultra-comfortable seats.
Just remember, save a couple bucks and go on a discount ticket day!
For more information about Alamo Drafthouse Cinema, visit their official website.
[mashshare]