Cathay Ticket Prices – Singapore
Cathay Cineplex is owned by the Cathay Organisation – which owns malls, hotels, apartments, building, and cinemas. They currently have seven (7) cinema locations around Singapore – all highly rated by their customers. Below, you'll be able to find their latest ticket prices, as well as a range of information about Cathay Cineplex.
Here are the latest Cathay ticket prices:

AGE
TICKET PRICE

Movies (weekend)

Children (>0.9m)
$13.00
Adult
$13.00

Movies (weekday)

Children (>0.9m)
$9.00
Adult
$9.00

ATMOS Movies

Children (>0.9m)
$14.00
Adult
$14.00

3D ATMOS Movies

Children (>0.9m)
$16.00
Adult
$16.00

Partners

[the_ad_group id="34"]

Platinum Movies (Mon-Thu

Children (>0.9m)
$28.00
Adult
$28.00
Student (with valid ID)
$28.00

Platinum Movies (blockbuster + Fri-Sun)

Children (>0.9m)
$38.00
Adult
$38.00
Student (with valid ID)
$38.00

Promotion Prices

Students
$7.00

Mon-Fri before 6:00 pm - Primary, Secondary, Tertiary - Valid ID required.

Students
$9.00

Mon-Thu any time - Primary, Secondary, Tertiary - Valid ID required.

Seniors
$5.00

Mon-Fri before 6:00 pm.

Find Cathay Near You

Was this page helpful?

Disclaimer: We are not affiliated with the theater. Prices should only be used as a guide. Please contact your local theater for accurate pricing.
Prices are updated for 2023.
Please note there is a booking fee of $1.50 for normal movies and $2.50 for Platinum tickets when you buy online.
The Cathay Experience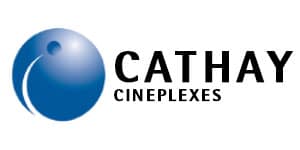 Cathay Cineplex has a number of options you can choose from to upgrade your movie-watching experience. Their most popular upgrade at the moment is their ultra-luxurious Platinum Movie Suites experience.
If you opt to purchase these tickets, you'll be treated to an exclusive lounge area for platinum holders and in-seat dining with bar service. Of course, we can't leave out the most important part – the seat. Your legs will be able to stretch out completely with the extended legroom the leather recliners provide. We doubt you'll find a more comfortable seat in the city!
Cathay's location – Jem – is the only one of their locations to offer the Dolby ATMOS experience. ATMOS provides the most realistic sound experience a movie can offer – unparalleled speakers literally 360° around you. You'll be able to hear, with perfect clarity, every sound the way the director wanted. The ultimate movie experience.
Jem, along with West Hall, has quite a unique offer for couples. Unlike anything else we've seen around the world, Cathay has specialised "couples seats", called Ultimate. Custom made cinema seating designed for couples – extra privacy without compromising on the comfort. The tickets for these are quite cheap as well! Only $14 all day, every day for the Ultima seats, and $16 if you're after the 3D version.
You can find more information on the Ultima tickets here.
Special Promotions and Ticket Discounts
There are a huge number of special ticket prices and coupons available from Cathay Cineplex – you just have to know where to look! At our count, Cathay is currently running no less than 17 promotions (according to their website).
Here are a few on offer at the time of writing:
2 x Weekday Tickets for just $15 (Mon-Thur before 6 pm)
2 x Weekend Tickets for just $22 (Fri-Sun any time)
$2 off any F&B combo – either A, B, or C
Complimentary welcome platter (friend, vegetarian, or Asian) with every Platinum Movie Experience
Special student priced tickets (Mon-Fri before 6 pm) – $8 for a movie ticket + a medium popcorn
Those are some pretty fantastic offers! We'd always recommend checking out their ticket promotions page before buying one just in case there's something you could use!
Private Cinema Hire
Cathay also offers a number of unique opportunities for you to host your next function at. Guests start at a minimum of around 50 and can climb all the way up to 500.  They also have a specialised event team on hand ready to handle your every request and subsequent question.
They offer the three following services:
Hall Rental – Perfect for company meetings, lead generation events, conferences, award ceremonies, and seminars
Private Movie Screening – Take ownership of the whole cinema for a few hours and invite all your best friends to join you
Churching Services – For those who require, churching services can also be held in a few of their locations
For more information on each of the type of events, please click here. The page also has an option to contact Cathay directly and make an enquiry.
Popular Locations
As with many other cinema chains around the world, it's only natural for some specific locations to be far more popular than others. This could simply be a coincidence or, and the more likely answer, there are certain reasons behind the customers choosing one of the other.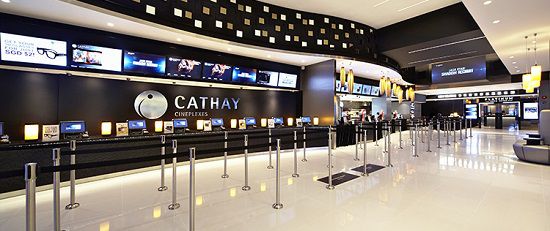 In some cases, it could be the cinema's technology, seating, or lack of accessibility, and in other cases, if could simply be the employees. The answer to this question is beyond the limit of this article, and should be directed straight to Cathay themselves!
Moving on, here are Cathay's most popular cinema locations:
The Cathay – 4.2/5 from 237 reviews – Levels 5 & 6, The Cathay, 2 Handy Rd, Singapore 229233
Cathay Jem – 4.5/5 from 18 reviews – 50 Jurong Gateway Rd, 05-04 Jem, Singapore 608549
Cathay Downtown East – 4.0/5 from 64 reviews – 1 Pasir Ris Close, Level 4, E!hub, Downtown East, Singapore 519599
Cathay Causeway Point – 4.0/5 from 84 reviews – 1 Woodlands Square, #07-00 Causeway Point, Causeway Point, Singapore 738099
Cathay AMK Hub – 4.0/5 from 26 reviews – 53 Ang Mo Kio Ave 3, AMK Hub Level 4, AMK Hub, Singapore 569933
All cinemas hold a solid rating of 4.0 and above – showing us their customers are so extensively please with their movie experience with Cathay, they've gone to tell the world how good it was on Google!
Conclusion
As you can see, Cathay Cineplex are well deserving of their current status in the Singapore movie industry. Their cinemas boast some of the most high-tech visual and audio equipment allowing for one of the most memorable movie experiences in Singapore.
Their ticket prices may not be the least expensive in the city, but they are well worth their value. If you take advantage of the certain discounts they offer such as the cheap student prices, or special during the week, you'll be able to grab a bargain and an awesome movie! Sounds like a good deal to us!
For more information about Cathay Cineplex, please visit their official website.
[mashshare]