[mashshare]
As the experts on all things relating to movie ticket prices, we felt a sudden disappointment in ourselves when we realized we hadn't released the ultimate guide to getting cheap movie tickets.
Today, that all ends.
Welcome to the single guide which we're 97% certain you'll be bookmarking before you reach the end.
We checked out our competitors, and were saddened and how little they were providing. So we decided to step it up a notch. Ours blows them out of the theater.
Enough jibber jabber – let's get into it.
One more thing – if you know any methods to get cheap tickets which aren't here already – let us know. Click the button and help others save $$ as well.
Cheap Days
This is a common one, not only in the states, but all around the world. Many Western countries including Canada, the United Kingdom, Australia, New Zealand, and of course, the United States, all have singles days throughout the week when tickets are vastly discounted.
Sometimes the day varies from cinema to cinema. Other times, a single day is accepted as the cheap day. For example – in Australia, it's widely known and accepted by both the cinemas and their patrons that Tuesday is the day dedicated to discounted tickets.

In the US, unfortunately, things are a bit more complicated. There isn't a single day which all cinemas accept as the cheap day. Likely because of the fierce competitive environment.
You know us, though. We're here to help save you money. Here are the cheap days for each cinema in USA:
Studio Movie Grill – Tuesday
Cinemark – Mostly Tuesday (each cinema is different)
Regal Theaters – Mostly Tuesday & Sunday (each cinema is different)
AMC – Tuesday
Marcus Theaters – Tuesday (everyone) & Thursday (students)
Something off? Head to the comments below and let us know.
Special Times
You won't see the same savings here as with the cheap days above, but it's still savings nonetheless. So what exactly do we mean by 'special times'?
Have you heard of Uber? Sorry, silly question. Well, one part of their pricing model operates on a dynamic 'surge pricing' system (link). Meaning when more people want to use Uber, it's going to cost you more.
Theaters operate on the same sort of notion. Except for the fact it isn't updated in real-time, not yet at least (a company in Australia is looking to change that).
Prices are high when everyone wants to go to the movies, prices are low when they'd rather be elsewhere.
---
Movie prices are the highest during the evenings (especially on Friday and Saturday), and cheaper during the morning/afternoon.
---
You'll start to see some savings when you head to the cinemas in the afternoon, commonly known as the Matinee. We have a post with the matinee times for each cinema – check it out here.
Lastly, if you're one of the early risers among us, movies during a morning time slot are vastly cheaper than their evening relatives. We're talking 30-50% cheaper.
Ring up your local cinema and ask them. You'll be pleasantly surprised. Of course, you have to take into consideration the effort to get up early. Mmmmmm…tough decision.
Loyalty Programs
With the rise of technology, nearly every cinema chain in the country has a loyalty program to reward their members. This has been one of the key tools used by cinemas in keeping their customers coming back to them.
So – what exactly will joining one of the programs get you? Cheap tickets for one.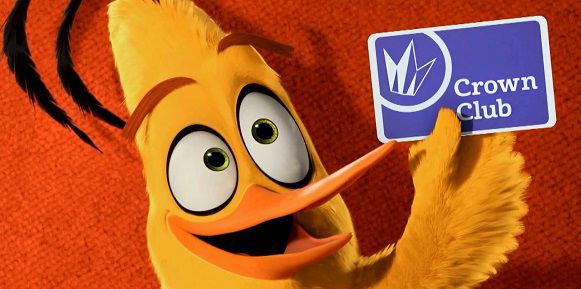 On top of that, many cinemas offer extra perks such as a free ticket on your birthday, deals and coupons for the concession stand, and exclusive invitations to advanced screenings.
Here are what some of the most popular loyalty programs offer:
AMC Stubs – Link

Free membership

Up to $2 off tickets on Tuesday
Free refills on large popcorn
20 points per $1 spent ($5 discount at 5000 points)
Free large popcorn on birthday
Online ticketing fees waived when buying 4 or more tickets

Paid membership – $15/year

Up to $5 off tickets on Tuesday
Free refills on large popcorn
100 points per $1 spent ($5 discount at 5000 points)
Free large popcorn & soda on birthday
Free popcorn & soda upgrades
All online ticketing fees waived

REGAL Crown Club – Link

Free to join
100 points earned for every $1 spent
Rewards

Soft drink upgrade – 1,500 points
Popcorn upgrade – 2,000 points
Small popcorn – 7,000 points
Small soft drink – 8,000 points
2D movie ticket – 15,000 points

IPIC Membership – Link

Free membership

Discounted ticket pricing
Get more on Tuesdays

Paid membership – $29/year + tax

Discounted ticket pricing
Get more on Tuesdays
Free ticket on your birthday
Exclusive membership events
Point + reward system
As you can see, most of these programs are free to join with a few offering a paid option for upgraded benefits. Check out each one to see which is right for you.
Monthly Movie Subscriptions
One of the latest innovations in trying to bring more people back to the cinemas is a subscription based model. Essentially, you pay a monthly fee to join the program and are then allowed to watch a set number of movies each month. Similar to Netflix.
Odeon Cinemas in the UK, along with a few others, have been pushing this revenue model quite intensely over the past few years, and many have seen it pay off.
It hasn't completely taken off yet here, but there are a few companies offering it. One of those is MoviePass.

Monthly memberships start at a low $14.99/month (2-3 movies/month) and increase up to around $49.99/month (unlimited movies – max 1/day).
So if you're looking to see more than 5 or 6 movies per month, you could be saving yourself a lot of money by signing up for their monthly membership.
Prices do vary for each city, so it's best to head to their website for pricing specific to you. Visit them here.
Discount Apps
As of 2017, there are two major apps available with the sole purpose of providing you guys with more ways to get cheaper tickets.
ATOM Tickets
The most popular of the two, ATOM tickets was founded in 2014 and has grown exponentially ever since.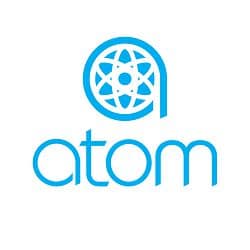 With more than $50 million of backing from major cinema chains such as Regal Theaters, one of their missions is to "eliminate the hassle of going to the movies" – they're talking about the ticket buying part.
Many users have praised the app as a Fandango killer. Aaron Ellis had the following to say:
This app by far kicks Fandango's butt. So much easier to use, and a much more attractive interface. You can see what's out and what's coming, so yo can see a movie tonight and plan for one next week too. Integration with Android pay makes for an easy seamless experience.
What makes ATOM tickets an app appropriate for this list, is their regular discounts they offer to their users. More than once a month, the send out promo codes for the latest movies, allowing you watch in on the cheap.
The Android app currently has a rating of 4.6/5 from 10,100+ ratings. Whilst the iOS version is sitting comfortably at a 4.8/5 with 5,800+ reviews.
Check it out on Android here, and iOS here.
Dealflicks
You know an app is going to save you money when their homepage shows you the following image (July 28th, 2017):

Dealflicks have done a pretty good job summing up their purpose, so we'll let them do the talking:
We partner directly with movie theaters to help them fill their empty seats (currently over 88% are empty on average). We negotiate with theaters to bring you amazing deals on tickets, popcorn, and soda.
Our description – Dealflicks provides discounted movie tickets by enticing patrons to see a movie a few weeks after it's released. You'll see discounts ranging from 10% all the way up to 60-70%.
Unfortunately, the only thing holding them back is the number of theaters they've partnered with. They've yet to hit the critical mass, so you may not be able to find cheap tickets near you.
With that being said, no harm in having a look right? Check out their official website here.
Buy in Bulk
Ahh, the classic method of cost saving – buying in bulk. No doubt you've known of this method for many years, especially with the huge expansion of Costco and their bulk buying model.
But have you ever thought about buying movie tickets in bulk? Unlikely. Let's change that.
There are a number of different places you can buy in bulk. Funnily enough, one of the major ones is Costco. Head to this page for all their bundles. They offer bulk discounts on AMC, Regal, Cinemark, and MovieTickets.com products.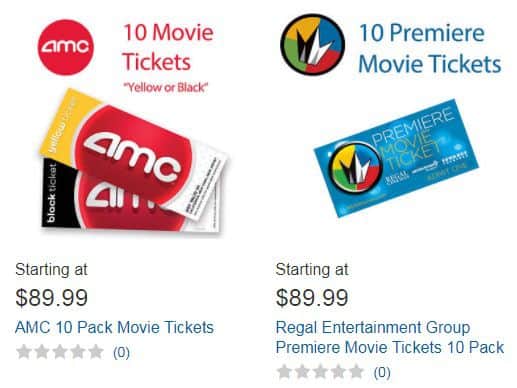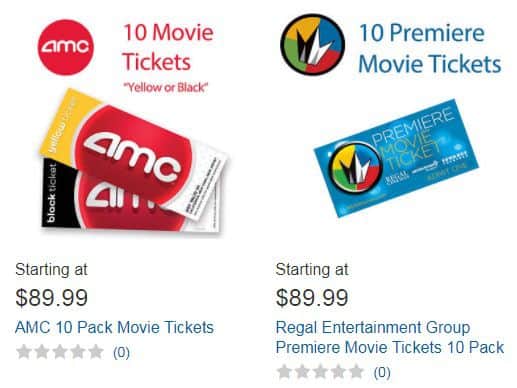 Similarly, many theaters have their own options for purchasing bulk tickets in advance. Simply give your local theater a call or head to their website to find out their bulk options.
For example – Regal offer Premiere Movie Tickets at special bulk pricing. It's meant for companies so there is a minimum order of 50, but each ticket comes down to a low $8.50. Pretty cheap aye?
Premiere tickets are accepted for any movie, never expire and can be redeemed at any of our theatres nationwide for admissions at significant savings.
Check them out here.
Discounted Gift Cards
The holy grail. But with all things holy, that means they're rare as well. And we do mean rare.
Every so often, maybe once every couple of months, Groupon, Amazon, or eBay will have a flash sale. And in that flash sale will be some AMC, Regal, or any other major cinema chain's gift card.
Savings of up to 20-30% can be had. Sure, they aren't as much as a few other methods mentioned earlier, but these gift cards will allow you to choose which movie, what time, and your preferred method of viewing (3D, luxury etc).
You'll have to sign up to receive notifications when these sales go live, as they do sell out/end extremely fast (sometimes less than 24 hours).
This is the best way to save on your movie tickets whilst still heading to see the movie when it's best for you.
Check out the current deals on Groupon here, and Amazon here.
Weekly Coupons
We saved the best for somewhere in the middle. It's in our name – MTP – Movie Deals + Coupons – so we'd better live up to it.

Every week, we send out all the discounts and coupons we know of to help you get the cheapest ticket possible.
Head here to see all the live and past coupons.
If you'd like, you can receive these discounts to your inbox weekly (that way you won't miss out). Click here to head back to the top of the article where you'll find the form.
Dollar Movies
The legendary, the mystical, the one and only, dollar movie tickets. If you're one of the extremely lucky duckies to already be living within range of one of these theaters, they are absolutely your best bet for the cheapest tickets.
How can these places stay in business whilst only charging less than a few dollars for tickets? They wait until movies stop playing at all the other cinemas.
Hence the name, second-run or sub-run theaters. We simply like to call them – '10 movies for the price of 1′.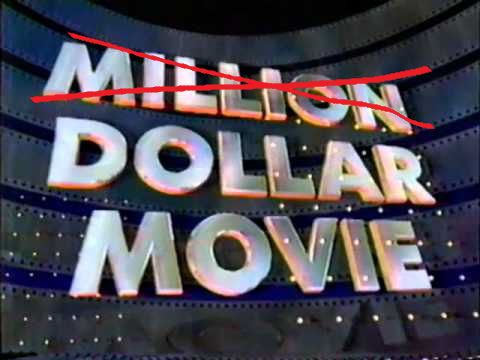 So, where can you find these discounted theaters? Lucky for us, there's a website for this sole purpose – TheDollarMovie.com.
The site is slightly difficult to navigate and many of the links are out of date. As such, here are the 27 theaters offering dollar movies:
Error
File "/var/www/pung-1/wp-content/uploads/2017/07/Dollar-Theaters-Database.csv" does not exist.
Please confirm with your local theater beforehand to see if they still offer the low priced tickets. Absolutely nothing would be worse than heading there, expecting to pay $1 or $2, then getting hit with: "That'll be $10.99 please."
We'd be hightailing it out of there like there's no tomorrow.
You can help other readers save money. If you think a theater in the table if missing or shouldn't be there:
3rd-Party Deals
By 3rd party, we mean companies not in the movie industry offering special deals and prices on movie tickets as a way persuading you to sign up to their services.
And from what we've discovered (many others as well), signing up to some of these services can actually save you a tonne of money.
Here's a couple we're currently aware of:
AT&T's Two for Tuesday
One of the longest runnings deals we've come across, and probably one of the most widely used ones as well.
Take a friend to the movies every week on us!
There are a number of terms and conditions which you can check out here, but the overall gist of the deal is every Tuesday when you buy one movie ticket, you'll get the second one free with AT&T.
AAA Discounted Tickets
The American Automobile Association (AAA) have partnered with an absolutely huge number of service providers, allowing them to distribute the greatest amount of benefits possible to anyone who's a customer.
And movie tickets are one of them.
According to their website here, you can get discounts of up to 35% off Regal tickets, up to 30% off AMC and Wehrenberg Theatres tickets and up to 25% off Cinemark tickets.
That's only the tip of the iceberg. They also have discounts available for tickets to Universal Studios, Six Flags, Raging Rivers, SeaWorld, Wet N Wild, Adventure Island, and more.
Good Luck
There you have it ladies and gentlemen, and movie-lovers all. The only guide you'll ever need to find cheap movie tickets.
What's your favorite way to get cheap tickets? Tell us in the comments below!
/* php echo do_shortcode('[mashshare]') */ ?>