Cinderella, the 2015 Disney-produced movie, is proof that fairy tales never grow old but the new audience will want a fresher re-telling that will suit modern sensibilities. The movie is based on Chales Perrautt's fairy tale with its lead stars being the fresh-faced Lily James as Cinderella and the award-winning Cate Blanchett as Lady Tremaine, the scheming stepmother. The film was directed by Kenneth Branagh, a widely respected actor and director, and with screenplay by Chris Weitz who successfully deviated from the formulaic fairy tale yet kept its spirit alive.
Disney is on a roll with its re-telling of classic fairy tales, which started with Alice in Wonderland and followed by Maleficent , the movie that cemented Angelina Jolie's superstar status in cinema. Cinderella premiered at the 65th Berlin International Film Festival on 13 February 2015, a testament to its critical appeal, and was successfully released to the general audience on 13 March 2015 in theaters like Cinemark and Cineplex in the United States.
Classic Story with a Twist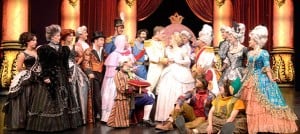 If you grew up on fairy tales, then you should know the story. A privileged young maiden, who grew up to be Cinderella, loses both her parents in tragic circumstances. She is then forced to live with her scheming stepmother and her two frivolous stepsisters.
When the crown prince invites everybody to a grand ball to choose his wife, Cinderella's stepmother and stepsisters ruin her plans to attend the ball in a homemade gown. But her fairy godmother comes to the rescue by transforming a pumpkin into a grand carriage and her pet animals into horses and footmen while Cinderella wears a gorgeous gown and glass slippers.
At the ball, Cinderella charms the crown prince but must run away at the stroke of midnight while leaving behind a glass slipper in her haste to escape before the magic dissolves. The crown prince then launches an extensive search for the girl whose foot will fit the glass slipper and, of course, Cinderella becomes the crown princess while her wicked stepmother and sisters are exiled from the kingdom.
The Cinderella story has roots as far back as 7 B.C. and there have been very few changes since then, even in the original 1950 Disney animation adaptation.
But the 2015 Cinderella has a few twists that keep the story fresh for the new generation of moviegoers, even for the children who have grown up on the fairy tale from their parents' nightly reading sessions before bedtime. You have to watch the movie for yourself to see the interesting twists but you will certainly be delighted with them.
Acting Kudos
While Cinderella is not an Oscar-worthy heavy drama, the actors delivered on their parts well. Kenneth Branagh can take part of the credit for assembling a suitable cast for all of the characters while the actors themselves should be commended for bringing added depth to two-dimensional characters, thus, making Cinderella an entertaining movie. Keep in mind that the characters are either good or bad in the movie, as is the case in fairy tales, so set realistic expectations about their depths (e.g., motivations and emotions).
Lily James, star of the television series Downtown Abbey, delivers well in her role of Ella – or as she was dubbed by her stepsisters after finding her covered in cinder, Cinderella. She has an innocent yet compelling face that can make a real-life prince fall in love with her.
But it's not her physical appearance that wins the hearts of the prince on film and the audience in real life. James embodies a modern-day Cinderella – an intelligent, charming and compassionate person empowered by her mother's words to have courage in the face of adversity instead of a damsel in distress in need of rescuing by a prince.
The verdict: The combination of capable actors adding depths to their characters, wonderful costumes and set design, and fascinating movie magic makes for a movie that you and your family will want to watch a few more times.
/* php echo do_shortcode('[mashshare]') */ ?>