Cineplex Food Prices
Cineplex, along with many other cinema chains in the country, is proud to offer a wide range of food, snack, and concession options at each of their locations. We've done our best to put together a price list of their menu prices for your benefit. If you do believe some are inaccurate, please contact us so we can change it.
Here's a list of Cineplex food prices:

Food
Price

Popcorn

Popcorn (Small)
$5.50 - $6.00
Popcorn (Medium)
$6.00 - $6.50
Popcorn (Large)
$6.50 - $7.00
Add Butter
$0.75 - $1.00

Candy

Candy (any size)
$4.00 - $4.50

Snacks

Nachos
$5.75 - $6.25
Hot Dog
$3.50 - $4.00
Hot Dog & Nachos
$6.75 - $7.25

Partners

[the_ad_group id="34"]

Beverages

Soft Drinks (Small)
$4.00 - $4.50
Soft Drinks (Medium)
$4.50 - $5.00
Soft Drinks (Large)
$5.00 - $5.50
Bottled Drink
$3.50 - $4.00
Dasani
$3.00 - $3.50

Combos

1 Large Popcorn + 1 Large Drink + Candy

$17.00 - $18.50
2 Regular Popcorn + 2 Regular Drinks + Candy

$25.50 - $27.50
1 Large Popcorn + 2 Regular Drinks + Candy

$19.50 - $20.50
1 Regular Popcorn + Dasani + Candy

$15.50 - $17.00
1 Regular Popcorn + 1 Regular Drink + Candy

$16.50 - $18.00
1 Large Drink + 1 Hotdog & Nachos

$11.50 - $12.50
Kid's Combo (popcorn + drink + candy)

$7.50 - $9.50

VIP Menu

Cocktails
$7.50 - $8.00
Martinis
$9.50 - $10.00
Beer (glass)
$6.50 - $8.50
Beer (pitcher)
$19.00 - $22.00
Beer (bottle)
$6.00 - $8.00
Burgers + Mains
$12.00 - $14.00
Salads
$13.00 - $15.00
Appetizers (poutine, cirspy dills, jalapeno poppers)
$6.50 - $8.00

Your rating

What are you thinking?

Tell them

[addtoany]

Disclaimer: We are not affiliated with the theater. Prices should only be used as a guide. Please contact your local theater for accurate pricing.
Prices were last updated on 28 March 2017.
Prices are gathered from a variety of sources including Cineplex's website, price information presented to us by our visitors, and images posted online across various reviewing platforms.
Cineplex's Food Partners
Cineplex has partnered with a number of external and internal food organizations in order to provide their customers with the largest amount of options available – aiming to satisfy every customer's stomach and dietary requirements.
Some of the companies who they're currently partnered with include:
Starbucks
Tim Hortons
Poptopia (gourmet popcorn)
Skittles
M&Ms
Panago
Minimelts
Coca-Cola
Pizza Pizza, and
Yoyo's
Not all of their locations are accompanied with everyone on the list above, so it's best to double check the cinema you're heading to has what you're looking for in advance.
For example, Hortons is only at five (5) locations – Scotia Montreal, Brossard, Queensway, Yorkdale, and Chinook. While Starbucks has a far wider reach, currently located at over 240 Cineplex locations.
So if you're a Hortons kinda person – you'll want to make sure you're heading to the right one!
Combo's and Promotions
As you can see from the table above – Cineplex offers a number of special food and drinks combinations for a discounted price if you were to instead buy them separately.
Unfortunately, we were unable to find an exact price on the Kid's mini combo so we have estimated it as best we could. If you are aware of what the real cost if, please let us know by hitting that "Report Prices"  button in the table above – you'll be helping many people asking the same question you have!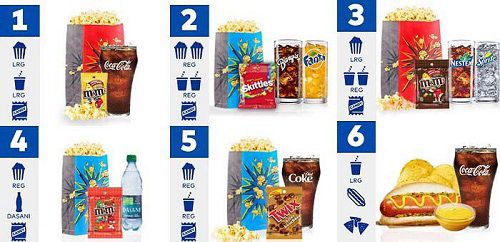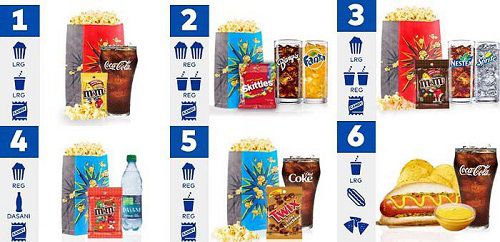 Popcorn is a clear favorite in Cineplex cinemas as it's one of their staples in each of the combinations. And we aren't surprised either seeing as though popcorn has been the classic movie snack since movies started adopting the low priced fan favorite during the Great Depression.
You'll find candy as well to be in each of the combos – letting us know many of Cineplex's movie-goers still have their sweet tooth firmly in place.
Licensed Locations
Did you notice down the bottom of their menu price list there are some alcoholic options? If you didn't, go back and take another look because they do!
At 17 locations – Cineplex are well equipped to handle those adults looking to indulge in a bit more than just a movie. Licensed locations are becoming more and more popular and prevalent in the modern day society with many customers willing to pay a bit extra for the added convenience.
Cineplex is taking complete advantage of the situation and offering well priced alcoholic beverages for you to enjoy either before, or during the movie should you choose.
Cocktails on their menu include:
Hair Caesar
Sweet Escape
Cherry Collins
Blueberry Frost
Whiskey Punch
Whereas some of the martinis are:
Candy Appletini
Very Berry Cosmo
Manhattan
007
Pineapple Upside-Down Cake
Check out the full VIP menu below (click the image to enlarge it):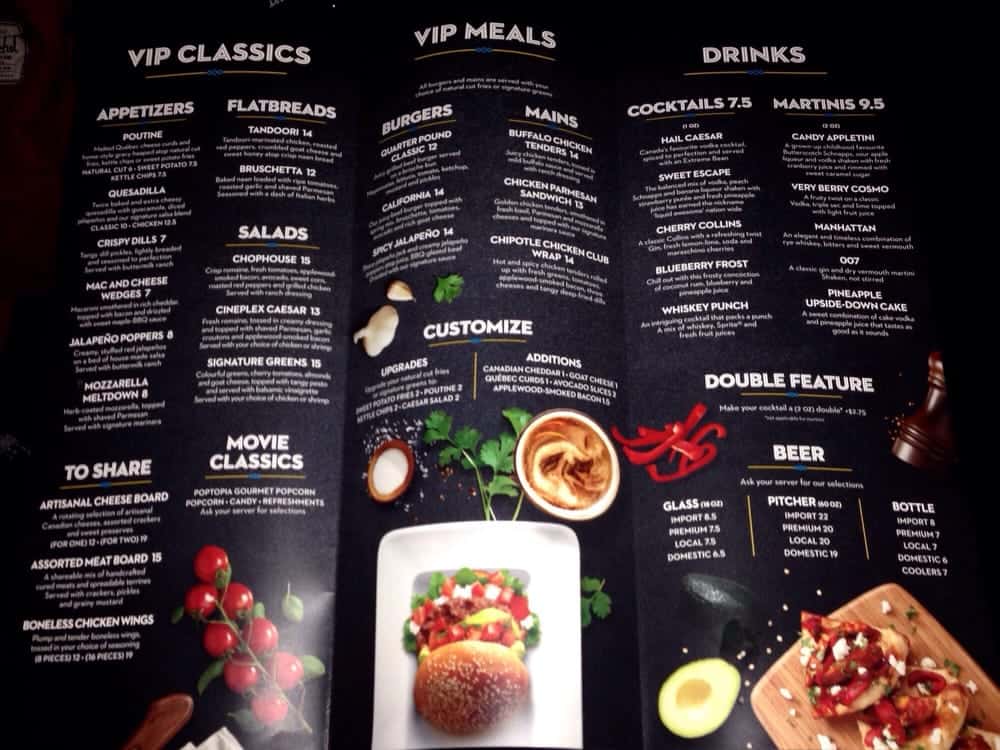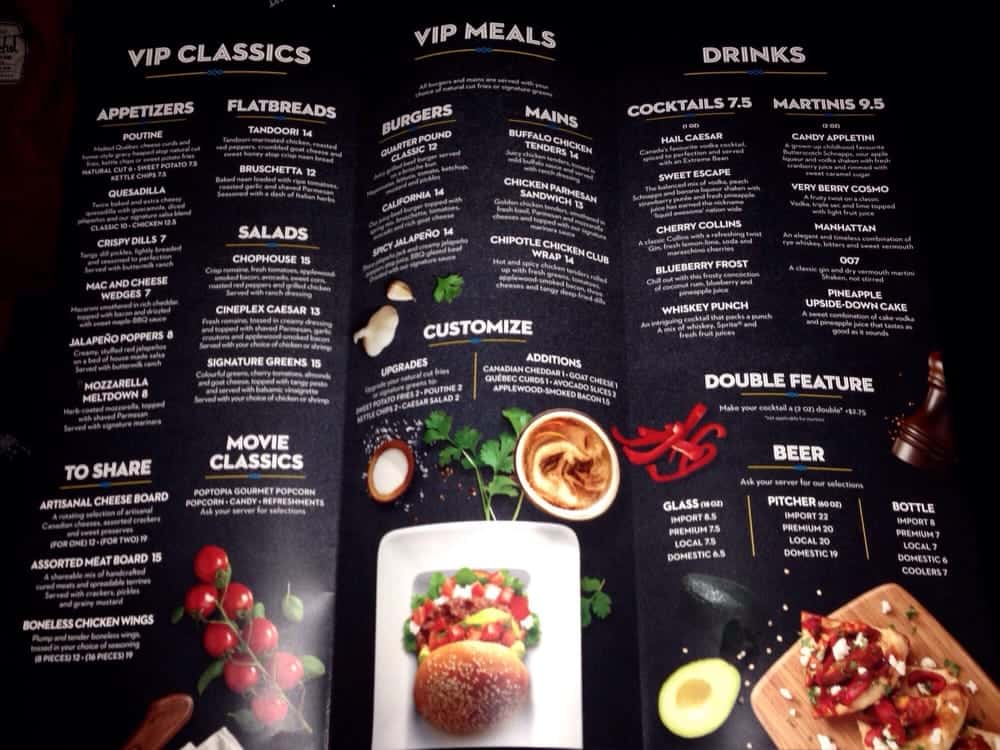 Thanks to the user – Sean "Magnum" A. – from Yelp.ca for posting the image.
Nutritional Information
Many people spend quite a bit more time caring about what they put in their bodies these days – and rightly so, as you only have a single one for your whole life! Maybe not, though, with all the new technology innovations consistently released upon the world.
Some governments have implemented new legislation requiring companies to disclose all their foods nutritional information. Whether or not this has affected Cineplex doesn't matter as they've kindly released it anyway.
Simply open up the PDF below to find all the nutritional information in a few of their food items.
For example – you may be interested to know a large popcorn from Cineplex has around 880 calories in it with 720mg of sodium. A lot or a little – it's all relative.
[mashshare]