Emagine Ticket Prices
When you pay for Emagine ticket prices, think of it as paying for your ticket to another world. When you go to the movies, after all, you imagine yourself to be in another world, even another universe. Obviously, you're still inside the cinema, but nothing's stopping you from letting your imagination run wild! For specific prices for each location, please click on the "Find Marcus" or "Buy Tickets" button at the bottom of the table.
Here are the ticket prices in Emagine theaters:

AGE
TICKET PRICE

Movies

Children (ages 2-11)
$6.50 - $8.00
Adults (ages 12 & up)
$9.50 - $11.00
Seniors (ages 55+)
$7.50 - $8.00

Movies (matinee)

Children (ages 2-11)
$5.00 - $6.00
Adults (ages 12 & up)
$5.00 - $6.00
Seniors (ages 55+)
$5.00 - $6.00

3D Movies

Children (ages 2-11)
$9.00 - $10.50
Adults (ages 12 & up)
$12.00 - $13.50
Seniors (ages 55+)
$10.00 - $11.50

3D Movies (matinee)

Children (ages 2-11)
$7.50 - $8.50
Adults (ages 12 & up)
$7.50 - $8.50
Seniors (ages 55+)
$7.50 - $8.50

Partners

[the_ad_group id="34"]

3D EMAX ATMOS Movies

Children (ages 2-11)
$11.00 - $12.00
Adults (ages 12 & up)
$14.00 - $14.50
Seniors (ages 55+)
$12.00 - $13.00

3D EMAX ATMOS Movies (matinee)

Children (ages 2-11)
$8.00 - $9.50
Adults (ages 12 & up)
$8.00 - $9.50
Seniors (ages 55+)
$8.00 - $9.50

EMAX ATMOS Movies

Children (ages 2-11)
$8.50 - $12.00
Adults (ages 12 & up)
$12.00 - $14.00
Seniors (ages 55+)
$9.50 - $13.00

EMAX ATMOS Movies (matinee)

Children (ages 2-11)
$7.00 - $8.00
Adults (ages 12 & up)
$7.00 - $8.00
Seniors (ages 55+)
$7.00 - $8.00

Your rating

What are you thinking?

Tell them

[addtoany]

Disclaimer: We are not affiliated with the theater. Prices should only be used as a guide. Please contact your local theater for accurate pricing.
Prices are updated for 2023.
Relative Newcomer to the Block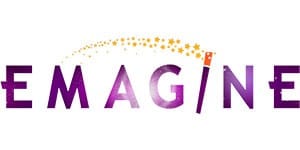 Founded in 1997, Emagine was originally known as Cinema Hollywood. Despite its status as a relative newcomer to the industry, the present-day Emagine Entertainment is known for its innovations in the cinema world.
For example, Emagine is the first theater in Michigan to offer all-stadium seating, convert to digital projection, equip the new 4K projection systems, intall Dolby ATMOS, and provide movie lovers with the chance to see films on the Xbrite 3D screens.
Emphasis must be made that Emagine theaters are located in several cities across the State of Michigan. Their efforts toward excellence in movie theater facilities, amenities and services have also been recognized via several awards and various publications praising the company including Detroit Free Press, Detroit News, and WDIV have cited Emagine as "Best Movie Theaters".
Such recognition is not surprising considering Emagine movie theaters provide its customers with superior amenities, facilities, and services. You can look forward to the following:
Spacious lobby with an area for socialization before and after the movie screening
Wide range of delicious food and refreshing drinks, including alcoholic drinks in selected theaters, at the concession stands and bar
Luxurious seats inside the theater, which can also be reserved in advance
Superior video and audio technologies providing world-class movie viewing experiences
Ticket Discounts and Promotions
We all love getting a good deal! Especially on movie tickets. So we checked out Emagine to see if they offer and deals or discounts you can use to shave some of the cost of the ticket prices or concessions.
And you can! Unfortunately, though, we were only able to find discounts for food items – not for tickets themselves. Options to discount your tickets can be found in the next section – their rewards program. Anyway back on track.
Here are the current specials offered by Emagine:
Free refills – Fill up your soft drink of your large all-you-can-eat popcorn bucket for free!
Free popcorn Tuesdays – only catch is you have to be a member of their rewards program
Minnesota Popcorn Bucket – purchase the bucket for $15 and fill it up each time you see a movie for just $2 – valid for the whole of 2017
You can check out all their current specials and promotions on their website here.
Emagine's Rewards Program
Emagine has stated they've designed their rewards program to be the absolute best program out there. And we believe they've done it.
Comparing it to AMC's program or Regal's rewards – Emagine absolutely kicks theirs out of the water. Breaking it down – the gist of the program is similar. Spend $1 and receive 1 point. Use these points to earn rewards on movies and concessions.

There are both free and paid options for the program. Let's take a look at both:
Free

Free small beverage of popcorn at 50 points
Free movie ticket at 100 points
Free popcorn on Tuesdays (promotion from above)

Paid ($12.75/year)

Free small popcorn on sign up
1.1 points per $1 (instead of 1 – 10% more)
$1 off fountain purchases and/or popcorn purchase
Priority notifications
Free movie ticket on your birthday
Exclusive screening and event offers
As you can see, the $12.75 which you'll pay to upgrade your rewards program membership seems like it's well worth it. But don't take our word for it.
Check out all the details of their rewards program here, and you can decide for yourself.
Popular Locations
Of course, each of the Emagine theaters has its specific design, services, and range of programming. Just to give a general idea of the movie theaters, here's a basic guide. You can obviously watch a movie in each of these locations for a hands-on experience.
Emagine Entertainment's first movie theater – located in Birch Run, Michigan. Aside from the stadium-style seating arrangement, Cinema Hollywood is also known for its DBOX Motion Seating. Alcoholic beverages are available here.
Cinema Hollywood's sister theater – located in Novi, Michigan. Notable for two things – Michigan's first all-digital movie theater and the first to feature two DBOX Motion Feedback auditoriums.
Located in Canton, Michigan, the 18-screen Megaplex set up is coupled with DBOX motion feedback auditoriums. Sit back, relax, and enjoy the movie on their ultra-luxurious seats.
Besides those three locations – Emagine has a number of others located in and around Michigan which takes the cake as being some of the most popular locations they have.
Here they are:
Emagine Palladium – 4.3/5 from 163 reviews -209 Hamilton Row, Birmingham, MI
Emagine Royal Oak – 4.2/5 from 561 reviews -200 N Main St, Royal Oak, MI
Emagine Macomb – 4.7/5 from 443 reviews – 15251 23 Mile Rd, Macomb, MI
Emagine Rochester – 4.6/5 from 312 reviews -Hampton Village Center, 200 Barclay Cir, Rochester Hills, MI
We don't need to tell you that such high ratings over such a high number of reviews only means one thing – consistently great experiences from customers who have chosen to watch a movie at Emagine Theatres.
As much as we know you love ratings, they simply don't do it complete justice. Here are some individual reviews from a few of their pages:
It's great here.. it's a bit of a drive from Detroit but worth it! Here the chairs are nice and it's usually clean unless they are understaffed. Any ways the concession stand are great they feature light weight foods from the ironwood grill.. and they have bosco sticks! The Long Island top shelf ice tea is marvelous, it contains 5 different liquors… this movie should be good regardless… they also have blankets here to purchase as you know it gets chilly in the theater – Earl Gonzalez

Wish I could give more than 5 stars! Prepare for incredibly cheesy ads by the owner before the movie. Have kids? Get them the kids combo. It's a great deal – drink and popcorn for like $5 and it isn't on the menu. You're welcome. – Allan Leshchinsky

The absolute best theater you could go to. Even with other theaters trying to match Emagine with updating to reclining seats, nobody can beat Emagine's quality. Their theaters are always very clean. Their ticket and concession prices are the cheapest prices I have ever come across. You get more popcorn and drinks for lower prices! Their staff is always pleasant. You will have a wonderful experience. – Cara McDonald
If those three reviews aren't able to convince you to give them a shot – nothing will!
Go ahead, give them a try – we know their low ticket prices aren't the reason that's stopping you so what is!
For more information about Emagine, visit their official website.
[mashshare]