Empire Cinema Prices (UK)
Empire Cinemas Ltd is a popular multiplex chain of 14 cinemas found all over the United Kingdom, with a new location in Ipswitch opening 31st March 2017. The chain boasts of 130 screens overall. Its state-of-the-art screens of various formats and affordable Empire Cinema ticket prices make it a top choice among moviegoers in the United Kingdom.
Below are latest Empire Cinema theatre prices:

AGE
TICKET PRICE

Movies (offpeak*)

Adult
£5.95 - £8.00
Child (14 years and under)
£5.00 - £6.25
Student / Senior (60+)
£5.00 - £6.25
Family**
£20.00 - £25.00

*Offpeak periods are all day Monday (excl. public holidays) and before 5pm on Wed + Thurs.
**Family tickets can be purchased for 2 adults and 2 children, or 1 adult and 3 children.

Movies (peak*)

Adult
£6.95 - £8.75
Child (14 years and under)
£5.00 - £6.25
Student / Senior (60+)
£5.00 - £8.00
Family
£20.00 - £25.00

*Peak periods include all day on Fri, Sat, and Sun. As well as public holidays and after 5pm on Wed + Thur.

3D Movies (offpeak)

Adult
£6.50 - £7.75
Child (14 years and under)
£6.50 - £7.75
Student / Senior (60+)
£6.50 - £7.75
Family
£26.00 - £31.00

Partners

[the_ad_group id="34"]

3D Movies* (peak)

Adult
£8.45 - £11.00
Child (14 years and under)
£6.50 - £7.75
Student / Senior (60+)
£6.50 - £9.50
Family
£26.00 - £31.00

*3D movies require special glasses which can be purchased for £1 if you don't already have one.

Tuesday Saver (allday)

Adult
£3.95 - £5.00
Child (14 years and under)
£3.95 - £5.00
Student / Senior (60+)
£3.95 - £5.00

Impact

Adult
£8.25 - £9.00
Child (14 years and under)
£6.00 - £6.50
Student / Senior (60+)
£6.00 - £6.50
Family
£24.00 - £26.00

IMAX (offpeak)

Adult
£11.25 - £12.00
Child (14 years and under)
£10.50 - £11.25
Student / Senior (60+)
£10.50 - £11.25
Family
£42.00 - £45.00

IMAX (peak)

Adult
£12.50 - £13.75
Child (14 years and under)
£10.50 - £11.25
Student / Senior (60+)
£10.50 - £11.25
Family
£42.00 - £45.00

IMAX (Tuesday)

Adult
£9.00
Child (14 years and under)
£9.00
Student / Senior (60+)
£9.00
Family
£9.00

Your rating

What are you thinking?

Tell them

[addtoany]

Disclaimer: We are not affiliated with the theater. Prices should only be used as a guide. Please contact your local theater for accurate pricing.
Prices were last updated on 10 March 2017.
History of Empire Cinemas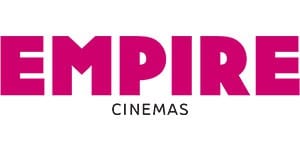 Empire Cinema's original location is in Leicester Square, London, where it opened in 1884 initially by the name of the Empire Theatre. It was designed by Thomas Verity and was considered as a West End variety theatre.
In 2005, Empire Cinemas Ltd was formed. This was when Empire started to acquire the divested theatres from both Odeon Cinemas and Cineworld. The Office of Fair Trading required it to divest eleven cinemas from the Odeon chain and six from the Cineworld's.
Then, after Cineworld took over the UGC operations in the United Kingdom and The Republic of Ireland to merge into its existing Cineworld brand, Empire Cinemas Ltd, on its part, acquired the two groups of available cinemas. Consequently, it rebranded them to be known as the Empire Cinemas.
Empire Cinemas Innovations
Empire Cinema is committed to continuous innovations to ensure the delivery of excellent services to its movie-going customers. The ultimate in movie technology, IMAX, has been embraced by the company. Today, IMAX is now found in five Empire Cinemas' theatres – Great Park, Swindon, Hemel Hempstead, Basildon, and Leicester Square.
Likewise, Empire Cinemas has given the utmost importance to people with disabilities by ensuring that its latest renovations include designs making all its cinemas wheelchair-accessible.
Adding on to its accessibility, it has also launched a booking function on the Internet allowing clients to book wheelchair spaces online for the cinemas' reserved seating performances. Simply select a seat with a wheelchair logo whilst purchasing your ticket online.
As a way of spreading various cinema-related news and announcements, Empire Cinema teams up with Showcase, another cinema chain, to publish The Escape Magazine. It is a free customer publication that is distributed twice a month in over 50 cinemas. Escape features interviews, film reviews, and competitions.
How Much Do Empire Cinemas Tickets Cost?
Empire Cinemas are one of the few with truly reasonable prices, even lower than those of other UK cinema chains such as Odeon. It maintains an affordable price for its standard screens in order to accommodate clients with limited budgets.
For those with higher budgets, you can opt for their higher-priced tickets. These tickets will allow you access to state-of-the-art IMAX and 3D screen formats for those who want to experience and enjoy the highest quality in theatre viewing.
If you want to know details about Empire Cinema theatre ticket prices, or specific prices for the theatre close to you, we recommend calling up the theatre, or viewing it individually online. You can also buy tickets and reserve theatre seats for you and your family via its online service.
Ticket Discounts
We all love movies, but we all love movies more then we get the movie tickets are a discounted price. Which is why we love to feature this section telling you exactly how to do so!
Currently, Empire Cinemas offers a number of programs and offerings you can take advantage of to lower the ticket cost. As you can see above, one of the best ways to do this is to simply visit on a Tuesday when the movie ticket prices are the lowest.
If you can't make it on a Tuesday, here are some more specials:
Empire Seniors – All tickets for £3.50 for the best recent and classic movies every Wednesday morning – details
Empire Parents & Baby – Relaxing, social environment designed for parents with young children (0-2 years) to watch movies – details
Last Chance Thursday – Every Thursday, selected movies are shown at a discount on the last day of their run – details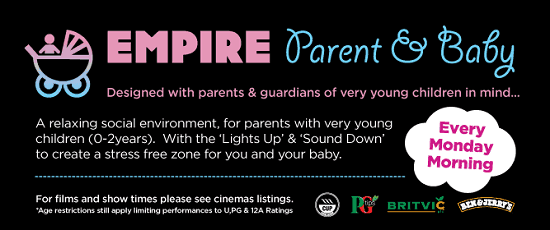 If none of those specials can convince you to head down to your love Empire Cinema and catch a flick, we're not sure anything will.
Locations
As mentioned above, Empire Cinemas currently have 14 locations spread around the United Kingdom. Some of these are far newer than others, and some are far more popular among it's customers as well.
Here are a few of the current favourite locations:
Empire Great Park – 4.3/5 from 306 reviews – Great Park, Rubery, Birmingham
Empire High Wycombe – 4.0/5 from 135 reviews – Crest Rd, High Wycombe
Empire Basildon – 4.0/5 from 185 reviews – Festival Leisure Park, Basildon
Empire Swindon – 4.0/5 from 119 reviews – Greenbridge Retail Park, Greenbridge Retail & Leisure Park, Drakes Way, Greenbridge
Empire Newcastle – 4.0/5 from 256 reviews – The Gate, Newgate St, Newcastle
Tens of thousands of movie-lovers visit these cinemas each month, and by the looks of it, you're going to be joining them soon!
Conclusion
The verdict? Nothing comes close to Empire Cinemas as far as offering superior movie viewing experience is concerned. Their screens come to life as you watch the latest blockbuster, whether you choose the standard 2D, 3D, or IMAX screen format. It offers everything that you could ever want for a unique movie-going experience – all at reasonable Empire Cinema prices.
You can purchase Empire tickets via the Internet or you may simply walk in and buy them over the counter.
Whichever way you choose to buy, your ticket serves as your access to your superior movie experience at the cinema. Without a doubt, Empire Cinema is a great option if you want only the finest in viewing experience for you and your family.
For more information about Empire Cinema, visit their official website.
[mashshare]