If you're looking for entertaining Hollywood fare consisting of gorgeous men with drool-worthy bodies stripping down to their thongs, then Magic Mike XXL should be on your must-see list. But be sure to set realistic expectations about soul-redeeming values, award-winning acting, and awe-inspiring sets because Magic Mike XXL is not the movie for these cinematic aspects.
Fortunately, the actors, producers and directors did not promote the movie as anything but a road trip among strippers with plenty of naked bodies gyrating on stage to the screaming delight of women. Sit back, relax and enjoy the strip show!
A Satisfactory Turnout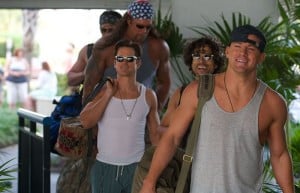 Magic Mike XXL is a 2015 comedy-drama starring Channing Tatum, Kevin Nash, Matt Bomer, and Joe Manganiello – and if the main cast sounds like a list of the hottest men in Hollywood, that's because it is. Even with their clothes on, the actors incite screams among their female fans and envy among men.
Of course, the movie is a sequel to the 2012 film Magic Mike that also resulted in higher-than-expected turnout at the box office. Released in 1 July 2015, Magic Mike XXL continues to make a satisfactory turnout despite bigger offerings at the tills, such as Inside Out, Jurassic World, and Terminator Genisys. In the United States, the movie was shown in theaters like Cineplex, Harkins, and Regal while in the United Kingdom, it was shown in theaters like Cineworld, Empire, and Odeon.
As of 26 July 2015, the movie has grossed $101.1 million worldwide. The movie was made on a $14.8 million budget so the producers have certainly made a tidy profit from thongs – or men stripping to their thongs. 
A Strippers' Road Trip
If you have seen road trips made by families (Are We There Yet?) and college friends (Road Trip), then you will know what to expect with Magic Mike XXL except for a notable difference – there are plenty of gyrating naked bodies, screaming women tucking money into thongs, and entertaining shows of bromance. This is a movie about strippers on a road trip to a stripping convention and, along the way, decides to strip down to their thongs to the delight of the crowd. This is a group of men who wants to enjoy the company of their good friends – bromance is the theme here – while ending their stripper careers on a high note.
(And on that note, you probably didn't know that strippers can have careers but they apparently do. Perhaps strippers move up from sleazy shows in dark bars to classy presentations ala Chippendales).
The plot is simple to understand so moviegoers need not remember complex characters and complicated twists and turns. Three years after leaving his stripper life behind to start a furniture business, Mike receives a call from one of his buddies who informs him that their former boss, Dallas, was gone. Mike thought that Dallas was dead so he went to a hotel only to find out that Dallas bailed out on them, the Kings of Tampa, to start a new stripper show in Macau.
The group decides to go on a road trip to a stripper convention in Myrtle Beach – yes, you are now planning to Google whether Myrtle Beach does have an annual stripper convention but we understand. Their goal: To end their careers on a high note and start their new lives with a last hurrah tucked under their belts – or thongs, if you want to more appropriate.
Magic Mike XXL was not only a commercial success but, surprisingly, a critical success, too. Critics say that the movie provides enough beefcake charm and narrative thrust, even pelvic thrusts, which make it a well-oiled entertainment popcorn fare. Go watch it for Hollywood-approved strip shows.
/* php echo do_shortcode('[mashshare]') */ ?>