In case your kids are not talking and you are too busy at work to notice here is a list of movies that kids from all around the globe are watching out for. We thought you might want to have the chance to surprise your kids with advance tickets from Reel Cinema so here it goes.
Pixels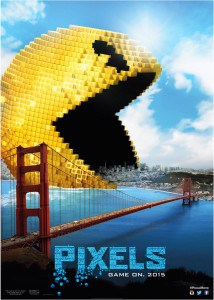 Pixels is every kid's dream where he can play within the realm of the most popular and funny video games. You can't really tell if this movie is a comedy film or a thriller. For starters, it stars Adam Sandler and his crew but then again it's about a war against alien beings. This combination of chocolate and pizza can only happen in a kid's mind and that's why kids from all ages are watching out for this film. Will Pac Man succeed in eating up the whole world? Will Donkey Kong throw all of his barrels and wipe out the White House? Every kid in the world is excited to see how this one goes and perhaps your kids are too.
Ant- Man
"Size of an ant; strength of a human". This guy is no Superman but he is arousing a lot of interest among all kids. Perhaps it is with regards to how he is going to be presented on screen. Are we going to see a lot of regular people and a tiny dot and refer to is as Ant Man or, are we going to see Ant-Man beside a lot of shoes and high heels? The Ant-Man poster with a miniscule photo of our superhero is already creating a lot of trending in the social networks. If a poster can already create so much buzz, one can only imagine what could happen on the first day of showing. With this kind of trending, you better get your tickets early or run the risk of your kids having to wait long for the DVD version.
Star Wars
The next Star Wars film is still far off set at 2017 but a lot of kids and adults are already talking about it. How can Star Wars be without Darth Vader? This is one of the most intriguing questions circulating around the internet. George Lucas claims that his vision for Star Wars Episode VII was not technically possible until this present date. This statement has created even more eager anticipation as to what he is about to present. Star Wars episodes I to VII will be tough franchise to beat and if on man can do it. It's going to be George Lucas.
Deadpool
This project was almost trashed because the producers lacked the confidence of it making a blockbusting performance until somebody from the inside leaked a test footage that aroused a lot of clings and clangs from super hero loving fans from all four corners of the globe. This fun loving but very violent merc-with-a-mouth anti-hero is already generating a lot of views in its Youtube teasers and trailers. Bound for 2016, kids from all over the world are already in eager anticipation for its world release. Can the kids hold on to their excitement 'til then? Are there going to be enough tickets for everyone? Only you can make sure of that by frequently visiting the Cineworld website for the latest updates on Deadpool.
Batman versus Superman
The title could have been "Batman and Superman" but DC Universe has to compete with Marvel with more creative and stimulating plots and titles. What can be more intriguing than Batman versus Superman? A lot of noise in circulation is suggesting that this will just be a preparation for a Justice League Movie. If such is the case then, the end result of an all-out war between Marvel and DC will only create more and better superhero movies in these coming years. Be always on the lookout for news about this development. If this happens it will only mean more father and son moments in movie theaters.
Captain America: Civil War
Though this is a Captain America movie what's more intriguing is the appearance of a dismantled Iron Man suit in the poster. A lot of speculation is already circulating that there could possibly be an Iron Man versus Captain America conflict within the story line. One thing about super heroes is that they also have super egos that sometimes clash and that is exactly what fans are waiting for. Captain America fans and Iron Man fans will again meet up in the cinemas to see how they fight together and how they'll fair fighting each other.
One of the few places where fathers and sons can turn into buddies is in a movie theater. Practically every kid in the world is watching out for these movie and chances are, your kids are one of them. Take advantage of these opportunities for two hours of quality time with your best buddies. Buy advance tickets and reserve your slots on the first screening for you and your kids' best enjoyment.
/* php echo do_shortcode('[mashshare]') */ ?>