[mashshare]
Here are the movies coming out this week on June 14th:
Men in Black: International

Plot
The Men in Black have always protected the Earth from the scum of the universe. In this new adventure, they tackle their biggest threat to date: a mole in the Men in Black organization.
Get tickets for Men in Black: International on Fandango.com!
Director
F. Gary Gray
Production Co.
Amblin Entertainment
Budget
$110 million
Cast
Tessa Thompson
Chris Hemsworth
Emma Thompson
Liam Neeson
Genres
Action, Adventure, Comedy
Rating
PG-13
Runtime
1 hour 54 minutes
Trailer
Shaft

Plot
New Line Cinema's action comedy "Shaft" is the next chapter in the film franchise featuring the coolest private eye on any New York City block.
John Shaft Jr., a cyber security expert with a degree from MIT, enlists his family's help to uncover the truth behind his best friend's untimely death. His dad, the legendary locked-and-loaded John Shaft agrees to help his progeny navigate Harlem's heroin-infested underbelly. And while JJ's own FBI analyst's badge may clash with his dad's trademark leather duster, there's no denying family. Besides, Shaft's got an agenda of his own, and a score to settle that's professional and personal.
Director
Tim Story
Production Co.
New Line Cinema
Budget
$30 million
Cast
Samuel L. Jackson
Jessie T. Usher
Richard Roundtree
Regina Hall
Genres
Action, Comedy, Crime
Rating
R
Runtime
1 hour 51 minutes
Trailer
The Dead Don't Die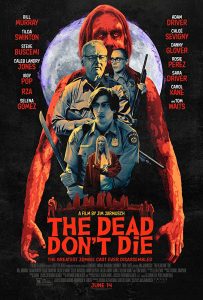 Plot
The peaceful town of Centerville finds itself battling a zombie horde as the dead start rising from their graves.
Director
Jim Jarmusch
Production Co.
Focus Features
Budget
Not released
Cast
Bill Murray
Adam Driver
Tom Waits
Chloe Sevigny
Genres
Comedy, Fantasy, Horror
Rating
R
Runtime
1 hour 54 minutes
Trailer
American Woman

Plot
In rural Pennsylvania, Deb Callahan's life is forever changed when her teenage daughter mysteriously disappears. Deb is left to raise her young grandson while navigating the trials and tribulations of subsequent years and ultimately to the long-awaited discovery of the truth.
Director
Jake Scott
Production Co.
Romulus Entertainment
Budget
Not released
Cast
Sienna Miller
Aaron Paul
Christina Hendricks
Amy Madigan
Genres
Drama
Rating
R
Runtime
1 hour 51 minutes
Trailer
/* php echo do_shortcode('[mashshare]') */ ?>