Odeon Cinema Prices (UK)
Odeon Cinemas is a premier chain of theatres with operations in the UK and Ireland. It's the biggest cinema chain in the UK in terms of the pure number of cinemas and the most popular chain in terms of sales. People flock to the cinema because of its superb screening and low prices. Many Odeon cinemas feature a state-of-the-art IMAX auditorium, a Ben & Jerry's ice cream store, a Costa Coffee Shop, a bar and lounge area.
Below are latest Odeon Cinema prices:

AGE
TICKET PRICE

Movies

Off Peak*

Child (12 years and under)
£6.00 - £7.50
Teen (Ages 13-17)
£6.00 - £7.95
Student (Valid student card required)
£6.00 - £8.50
Senior (Ages 60+)
£6.00 - £9.00
Adult (Ages 18+)
£6.00 - £11.00
Family (1 adult, 3 children or 2 adults, 2 children)
£22.00 - £32.00
*Mon-Thu before 5pm. Some are all day Mon-Thu.

Peak*

Child (12 years and under)
£7.50 - £9.25
Teen (Ages 13-17)
£7.50 - £10.50
Student (Valid student card required)
£8.00 - £10.50
Senior (Ages 60+)
£7.50 - £11.00
Adult (Ages 18+)
£10.95 - £13.95
Family (1 adult, 3 children or 2 adults, 2 children)
£26.00 - £35.60
*All day Fri-Sun. Some include Mon-Thu after 5pm as peak.

3D Movies

ADDITIONAL CHARGES PER TICKET

Adults
£2.00
Family
£6.40
Children, Teen, Student & Senior
£1.60
3D Glasses
£1.00 per pair

Premier Seat

Each
£1.00 - £2.20
Family
£6.40 - £8.80

IMAX / 3D IMAX

Off Peak

Child (12 years and under)
£10.00 - £12.50
Teen (Ages 13-17)
£10.00 - £12.95
Student (Valid student card required)
£10.00 - £13.50
Senior (Ages 60+)
£10.00 - £14.00
Adult (Ages 18+)
£10.00 - £15.00
Family (1 adult, 3 children or 2 adults, 2 children)
£38.00 - £52.00

Peak

Child (12 years and under)
£11.50 - 14.25
Teen (Ages 13-17)
£11.50 - £15.50
Student (Valid student card required)
£12.00 - 15.50
Senior (Ages 60+)
£11.50 - £16.00
Adult (Ages 18+)
£15.95 - £18.95
Family (1 adult, 3 children or 2 adults, 2 children)
£44.00 - £55.60

Ticket Surcharges

D-BOX (per ticket)
£4.00
D-BOX (family)
£16.00
3D D-BOX (per ticket)
£5.50
3D D-BOX (family)
£22.00
Blockbusters - New Release Movies (per ticket)
£0.50 - £1.50
Blockbusters - New Release Movies (family)
£2.00 - £4.00

Bargain Mondays

All Tickets (normal upgrade costs still apply)
£5.00

Click here for a list of Odeon Cinemas participating in Bargain Mondays.
Prices are updated for 2023. Buy Odeon tickets here.
History of Odeon Cinema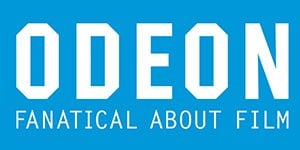 Odeon started as a small theatre circuit way back in 1928, with its very first cinema opened to the public by Oscar Deutsch, in West Midland's Brierley Hill.
Initially, it was called the "Picture House" and was only called as Odeon when the cinema at Penny Barr, Birmingham became operational in 1930.
As one of the major cinema companies in the whole of Europe, Odeon bears the name as how it has been known in the British Isles since 1930. Today, because of its continuous expansion, many of the cinemas are ultra-modern and possesses no hint of resemblance to the original Odeon.
Odeon UCI Cinema Group, along with the Terra Firma Capital Partners, were the owners of Odean Cinemas until 2016. American chain AMC Theaters was recently approved for their takeover bid of Odeon for $1.2 billion in late 2016, leaving AMC to become the new world's biggest cinema chain.
AMC have announced all of the Odeon branded cinemas will remain as such in UK and Ireland. As well, the international cinemas Odeon owns in Italy, Portugal, Germany, and Spain, will all remain the same as well.
Odeon Cinema Innovations
Odeon Cinemas has made innovation a vital part of its growth. Continuously making sure the most advanced cinematic technologies and the latest theatre equipment are found throughout its theatres. Below are just a few of the state-of-the-art technologies Odeon has implemented over the years:
IMAX
Odeon brings only the best movie experiences and that means IMAX. Giving patrons the chance to enjoy the ultimate in viewing experience with stunning image clarity as well as out-of-this-world audio assuring unforgettable cinematic effects.
Following their partnership with IMAX, Odeon now boasts many large screens and high-tech sound consistently bringing the most impressive movies for its customers. As its brand logo says, "Immerse yourself in IMAX" – and this is what truly happens whenever one watches in IMAX movie at Odeon.
IMAX screens are generally housed in specially designed spaces to achieve the greatest effect. Currently, Odeon's largest IMAX screen resides in their London location.
Not only can you watch the latest action blockbuster in IMAX, you'll also be able to watch it in 3D if it's available. If you've never seen a 3D IMAX movie before, we recommend you stop what you're doing, and head to one immediately. You can thank us later.
3D Movies
Odeon is also proud of its RealD 3D format, one of the innovations making it a favourite cinema among avid movie goers. Watching a movie in 3D makes you feel like you are a part of the whole adventure.
RealD 3D, as it's called, delivers high-quality images – ones that are bright, colourful, and super-realistic. Complemented by a usual stunningly defined surround sound system, you'll become fully immersed in the story being told all around you.
The Gallery – the Odeon's Premium cinema
Looking for a complete VIP movie experience? You'll want to read on. The Gallery is where guests are treated to the full VIP experience.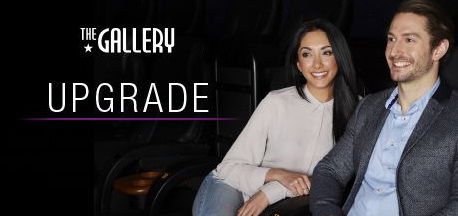 Odeon means VIP when they say it. Upgrading your tickets will allow you to take advantage of extra-wide seating with additional leg room (yes please). That's not all. Unlimited popcorn, soft drinks, and nachos. Yes, you read that right. Unlimited. Why are we still here? We're going to call in sick tomorrow and try this out for ourselves!
The Gallery VIP experience is limited in the number of cinemas which offer it. As of 16 March 2017, the following locations offer The Gallery tickets:
Cardiff
Greenwich
Manchester
Liverpool One
Metrocentre
Milton Keynes
Norwich
Did we mention The Gallery tickets also grant you access to a private bar before the movie starts? Did we mention some cinemas will allow you to take those drinks into the movie as well?! Well, we have now.
Of course, with all the extra features included, Odeon's The Gallery ticket prices are a bit more expensive than normal. Greenwich charges £24.00 to see a 2D movie in the Gallery and £29.00 for The Gallery experience in 3D IMAX.
D-BOX
We checked out Odeon's website to see what they had to say about their D-BOX movies, and we thought they did a pretty good job nailing it on the head with their single one-liner.
Sound + image + motion = the ultimate cinematic experience
Can you guess what D-BOX is now? Yep, the seats move in line with what's happening on the screen. Ahh, we love when technology works together!
D-BOX seats can vibrate, go up and down, roll side to side, and even pitch back and forth. If it's getting a bit too intense for you, there are individual controls on each chair allowing you to adjust the movement, and even turn it off altogether if you'd like.
How Much Do Odeon Cinema Tickets Cost?
One of the most preferred theatres in the United Kingdom is Odeon Cinemas since its ticket prices are more affordable compared with other cinema chains such as Cineworld.
Odeon consistently strives to deliver the best quality movie experience at affordable prices by offering a variety of movie formats. Apart from its standard screen, the price of which is priced minimally, other formats mentioned above such as IMAX, 3D, D-BOX, and The Gallery allow those with a higher budget to enjoy spectacular movies at appropriate prices.
The company is committed to offering its customers superb movie viewing at low theatre prices.
Specific Odeon Cinema ticket prices in your region can be found by downloading their app, giving them a call, or check out their individual cinema's website page.
Limitless Odeon Tickets For £17.99/month
Just like Cineworld have the Unlimited program, Odeon offers a very similar product. For only £17.99/month (approx. the cost of 2-4 tickets), you can watch all the films you want as often as you want each month.
If you opt for all of the Central London cinemas to be included in the places you can use the card, the cost increases to £19.99/month.
Feel free to check out all of the information and any extras you need to know before signing up, here.
Odeon Locations
We always like to take a look at which locations are the most popular with the cinema brand, and Odeon is no different.
Here are a few of Odeon's locations which patrons visit the most each month:
Odeon Southampton – Leisureworld, W Quay Road
Odeon Manchester – 27 Withy Grove
Odeon Preston – Port Way
Odeon Norwich – Wherry Road
Odeon Brighton – Kingswest, West Street
Odeon Kingston – The Rotunda Centre, Clarence Street
Odeon Wimbledon – 39 The Broadway, London
Combining all of the above together, and we estimate over 300,000 people watch movies at these cinemas each month.
Conclusion
Odeon Cinemas is one of the few theatre chains that offer the chance for avid movie watchers to see a movie every week with hardly a dent in their pockets, because of its low ticket prices.
As one of the major cinemas in the whole of the United Kingdom, it's committed to meeting the high expectations of customers by providing the highest quality movie viewing possible.
Guests can be impressed with the ultra-clean venues that boast modern theatre amenities. Most importantly, theatre staff are courteous and approachable – making everyone feel right at ease.
Indeed, if you are in the UK and intend to watch the latest blockbuster flick, on of the first places you should check out is an Odeon Cinema. As you've seen above, an Odeon cinema is never far away.
For more information about Odeon Cinema, visit their official website.
[mashshare]