Studio Movie Grill Prices
Studio Movie Grill prices are not just the price you pay to simply watch a movie, but rather a price for access to the rest of the world-class facilities on top of the highly-rated movie theater chain in the United States. Find out if their prices are worth it by making a visit and watching a movie at your local Studio Movie Grill cinema.  
Below are latest Studio Movie Grill ticket prices:

AGE
TICKET PRICE

Movies

Children (ages 2-12)
$7.00 - $7.50
Adults Peak Evening
$10.00 - $11.00
Adults Non-Peak Evening
$9.00 - $10.75
Before Noon
$6.00 - $6.50
Adult Matinee (before 5pm)
$7.00 - $9.00
Seniors (ages 65+)
$7.00 - $9.00
Student Discount (13+ with ID)
$7.00 - $9.00
Military Discount (with active ID)
$7.00 - $9.00

Partners

[the_ad_group id="34"]

Cheap Tuesday Movies

Everyone
$5.00

3D Movies

Additional Experience Charge
$3.00

Your rating

What are you thinking?

Tell them

[addtoany]

Disclaimer: We are not affiliated with the theater. Prices should only be used as a guide. Please contact your local theater for accurate pricing.
Prices are updated for 2023.
Eat and Drink

The Studio Movie Grill movie experience starts in the theater's kitchen where the food and drinks are prepared on a daily basis. You can choose from a wide range of American grill staples including burgers as well as salads, sandwiches, and appetizers. Additionally, the American movie staples of popcorn, chips and soft drinks with a variety of choices for kids and adults alike can be found in each of the cinemas.  
Studio Movie Grill has been kind enough to layout the structure of their movie experience so we all know what's going on beforehand. There are a number of steps involved:
Select your movie and choose a viewing time.
Next step is to, of course, purchase your movie tickets for the specified price. This can be done online through their website or by calling them on 972-388-7888.
Studio Movie Grill recommends you arrive 20 minutes before the movie starts, so you can check out the bar and lounge beforehand, as well as checking in with your hostess. You'll also be given a menu here.
Following checking in, you'll make your way to find your seat and place an order for some food/drinks. This can be done by pressing the service button on the side of your chair.
Here comes the good part – sit back, relax, and enjoy the movie and food. If you run out of the latter, simply hit the service button again to call a waiter over.
Once the movie is done, feel free to hang out in the lounge/bar for a nightcap and discuss the movie with your friends or family.
Their bars feature over 60 premium spirits, so we'll doubt you'll have a hard time being pleased!
Community Outreach
Unlike many other cinema chains, Studio Movie Grill is one of the few who actively participate in the community with a strong focus on giving back to those in need.
Studio Movie Grill in both evergreen efforts such as giving back 5% of proceeds from chef-inspired menu items ordered to Special Needs Children. Another example is their Special Needs Screenings in which movies are shown specifically for families raising children with special needs.
Localized community involvement has included partnering with Variety: The Children's Charity to donate an adaptive bicycle to a special needs child and offering free movies to all the first responders in violent attacks on police offers during 2016.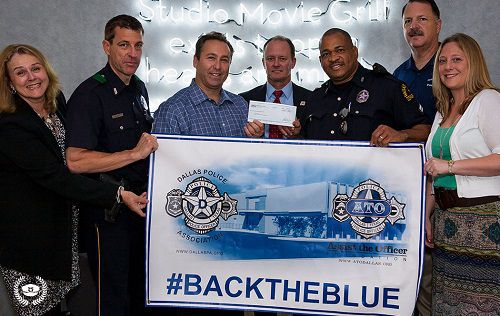 You can find all of their community outreach programs and specific cases where the company has been involved in here.
If you're involved in a community program and are in need of some funds, Studio Movie Grill has a page where you can request a donation to your cause. It's a simple form to fill out and will be well worth your time. Click here to get started.
Ticket Discounts
There's only a single way to receive discounts off the full priced movie tickets at Studio Movie Grill (which we could find). And's that by signing up for the email club.
It's completely free, and signing up will grant you access to free screenings, exclusive events, advanced ticketing, and what we all love the most, discounted tickets.
You can sign up on this page here. All you have to do is enter your email and choose which location you'd like to receive emails from.
Mind Your Manners
Keep in mind, however, that you are not in the privacy of your home so please be respectful during the movie. Your fellow moviegoers will appreciate your good manners while inside the theater, too, just as in the same way that you expect good manners from them. Keep these tips in mind:  
Arrive at the theater at least 15-20 minutes before the advertised show time.

Enjoy your food and drink at the lobby bar, if you want, until seating is announced.  

Push the service button on your seat, if and when you want to order more food and drinks from the wait staff, instead of shouting for them. You can order at any time during the screening. 

Turn off mobile devices – or at least, set them on mute or vibrate. Avoid using your mobile for texting, calling, and recording the movie.  
Now, you can enjoy the movie and get the most value for your money!
For more information about Studio Movie Grill, visit their official website.
[mashshare]