Cinemark Movie Rewards
About Cinemark Movies Rewards
Cinemark Theaters' Rewards club offers two different loyalty programs: one free and one paid. Each rewards members with one point for every one dollar spent at Cinemark, and members can redeem points for a variety of rewards including movie tickets, concession items, and movie swag. The paid tier earns points as well as rewarding one free movie ticket per month.

If you're a frequent moviegoer and see one movie or more each month, then Cinemark's Movie Club is the best choice for you.
If Cinemark is not your go-to chain, then it makes sense to join the Movie Fan program since it's free. Plus when you sign up, you typically get a perk such as a free large popcorn just for enrolling!
Check out this new perk recently added to Cinemark's movie rewards: CineMode!
Download the Cinemark App on your iOS, Android or Windows device
When seeing a movie at Cinemark, enter CineMode inside the Cinemark App
Stay in CineMode for your entire movie and earn free coupons!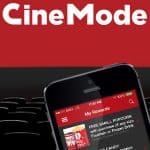 Want to know which programs have the best movie rewards?
Benefits/Rewards
Movie Fan
Points: 1 point for every dollar spent
Benefits:
Earn 1 point for every $1 spent
Points may be redeemed for tickets, concessions, and other rewards
Pay no online fees for tickets purchased with a rewards credit
Access to screenings and advance tickets
Free refills on large popcorn and drink (one per item, same day of purchase)
Birthday reward
Exclusive member offers
Rewards
25 points for $1 off any concession purchase
50 points to upgrade to an XD movie
75 points for $3 off any concession purchase
250 points for a free movie ticket!
Various movie swag rewards offered throughout the year
Bonus points offers
Movie Club
Cost: $8.99/month ($9.99 in CA, OR, WA, and AK)
Points: 1 point for every dollar spent
Receive 1 movie ticket per month
Benefits:
All Movie Fan benefits
Monthly credit valid for one regular 2D movie ticket (premium format upgrade for a fee)
Unused credits roll over and never expire for active members
Pay no online fees
Always receive a 20% discount on concessions (certain exceptions may apply)
Special member pricing on additional regular 2D movie tickets for member and one companion
Earn points for all Cinemark Movie Club purchases
Credits may be used to purchase tickets for companions and friends
Expiration
Unused Cinemark Movies Rewards Club points expire 12 months after issuance. Oldest points are always redeemed first.