MJR Ticket Prices
MJR Digital Cinemas is a Bloomfield Hills, Michigan-based movie theater chain serving the Metro Detroit area. The company currently owns and operates 9 theaters with 148 screens as well as a 5-screen theater that shows second-run movies. MJR have recently announced a new location will be opened in Warren, Michigan at 28600 Dequindre Road. Set for a grand opening in April 2017, you can find more details here.
The latest MJR ticket prices are as follows:

AGE
TICKET PRICE

Movies (evening)

Children (ages 2-12)
$7.50 - $8.00
Adults (ages 13 & up)
$9.50 - $11.00
Seniors (ages 55+)
$7.50 - $8.00
Student (with valid ID)
$7.50 - $8.500

Movies (matinee)

Children (ages 2-12)
$6.00 - $7.00
Adults (ages 13 & up)
$6.00 - $7.00
Seniors (ages 55+)
$6.00 - $7.00
Student (with valid ID)
$6.00 - $7.00

Partners

[the_ad_group id="34"]

Movies (before noon*)

Children (ages 2-12)
$5.00 - $6.00
Adults (ages 13 & up)
$5.00 - $6.00
Seniors (ages 55+)
$5.00 - $6.00
Student (with valid ID)
$5.00 - $6.00

*Only at participating MJR cinemas.

Ticket surcharges (everyone)

3D Movies
$2.50
MJR Epic Experience Presentation
$2.00
MJR 3-D Epic Experience Presentation
$3.00

Your rating

What are you thinking?

Tell them

[addtoany]

Disclaimer: We are not affiliated with the theater. Prices should only be used as a guide. Please contact your local theater for accurate pricing.
Prices were last updated on 15 March 2017.
The Beginnings of MJR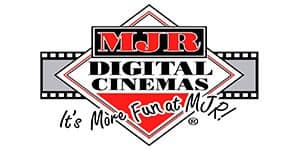 MJR Digital Cinemas began as MJR Theaters in the early 1980s when the company acquired the Main Theater in Royal Oak, Michigan. Acquisitions of existing theaters and development of new cinemas followed in the subsequent years, such as the Monroe drive-in, the MJR Adrian Cinema, and the Waterford theater in 1990.
One of the most recent theaters MJR have opened is the Troy Grand Digital Cinema located in Troy, Michigan. It has 16 screens and is currently the only cinema to offer the MJR Epic Experience Presentation and the MJR 3D Epic Experience Presentation.
MJR was able to fund the expansion of their through offloading a few of its existing theaters, acquiring new bank loans, and allowing third-party investors to bring in money. One of these investors was the Luna Enterprises.
We know you're dying to know what "MJR" stands for? And we're not going to tell you. Just kidding! It's the acronym of the company's original slogan, "Movies Just Right". Today, the slogan has been reworked into "It's More Fun at MJR".
MJR Locations
MJR's most popular locations around the country include:
MJR Chesterfield Crossing 16
MJR Brighton Town Square 20
MJR Troy Grand 16
MJR Southgate 20
MJR Waterford 16
Most of these theaters have the following facilities, amenities, and services:
Studio Bar and Lounge, a full-service bar that offers a wide range of cocktail choices available for customers 21 years of age and above.
Self-serve kiosks, which allow customers to buy tickets at the kiosks or purchase their tickets online for pick up at these sites.
Superior theater facilities including large, comfortable cushioned seats with ample legroom; 4K projection and Dolby Atmos surround sound; and air-conditioned environment.
In selected locations, you will love the wide leather chairs and plush leather recliners.
A few selected locations also provide amenities for people with sensory difficulties. First, the CaptiView closed captioning devices transmits the dialogue on the big screen to a smaller yet easy-to-read personal screen attached to your seat. Second, the Fidelio device is a descriptive narration and assisted listening system, which the visually and hearing-impaired customers can use.
The bottom line: You have no excuse to skip on an epic movie viewing experience even if you have sensory difficulties. You can still enjoy the witty dialogues, fast action, and crisp sound of new-release blockbusters with visual or auditory impairments.
If you have a busy schedule and you have little time to spare for lining up for tickets, you can also use the reserved seating feature. You will not only get your ticket in advance but you will know exactly where you will be seated during the film screening.
Ticket Discounts and MJR Rewards
MJR have recently announced their decade old loyalty program is being overturned and transformed to remain competitive in the cinema industry. After receiving feedback from many of the current members of the program, MJR Premier Rewards will be open to the public in April 2017.
All member of the old program can continue to earn points up to 19 March 2017, which will continue to be accepted by MJR up to 365 days after the day they were earned. Member of the old program will be unable to transfer membership across due to certain constraints, so they'll need to sign up again for the new one.
MJR Premier Rewards is similar to a number of other loyalty programs offered by other cinemas, such as Carmike. For every one dollar ($1) you spent towards eligible purchases, members will receive one (1) point.
You'll then be able to use these points to redeem certain items such as movie tickets and concession items.
We were unable to find a list of the points required for rewards, but we assume it will be similar to their old program which you can find here.
For more information about MJR Cinema, visit their official website.
[mashshare]