Harkins Theatres My Harkins Awards
About My Harkins Awards
My Harkins Awards is designed for movie fans who love to see films at their favorite Harkins theatres. Members earn Points on qualifying purchases at the box office, concession stand, and even online merchandise. Awards can be used towards tickets, concessions, and more. Popcorn Perks is an optional premium upgrade that provides the best deal frequent moviegoers will find for popcorn (less than $1 per popcorn!).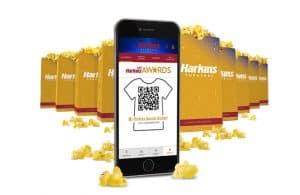 My Harkins Awards
Cost: Free ($0)
Points: 1 point for each dollar spent on qualifying purchases at the box office, concessions, and online
Benefits include:
$5 Award for every 200 points earned to use at box office or concessions (points are earned for all Qualifying Purchases)
$5 Birthday Award added directly to your Award Dollar balance
Exclusive access to special events
Other Harkins Theatres special offers
Popcorn Perks
Cost: $30 annually
Benefits include:
Receive a medium popcorn with the purchase of a movie ticket! Valid up to a 12-month period or a maximum of 36 Popcorn Awards, whichever comes first.
Expiration
Accumulated Points expire after 180 days of inactivity. Award Dollars are available to use for up to 180 days once they have been awarded.
Find out more about Harkins ticket prices.
We compared all the reward programs. See how they ranked!
[mashshare]