[mashshare]
Star Wars Episode 9 Tickets On Sale
You can now preorder tickets for Star Wars: The Rise of Skywalker! Episode 9, the last in the series of the original Star Wars movies, is coming out on December 20, 2019. You can preorder Star Wars movie tickets at the various theater chains, but if you purchase tickets for Star Wars The Last Jedi on Fandango, you can earn Fandango rewards points in addition to points from other programs like AMC Stubs or Regal Crown Club.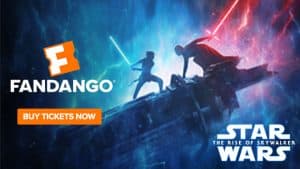 Star Wars Opening Night Fan Event
Theatres are hosting opening night events on 12/19 at many locations with most of the events being held at the 5:00pm showing. Here are the best perks for the Episode 9 Opening Night Fan Events:
Celebration Cinema: Commemorative pin, free drink and popcorn.
Regal Theatres: Commemorative pin, lanyard, and a free large popcorn.
Maya Cinemas: Commemorative pin and a free large popcorn.
Cinemark: Commemorative pin and a free medium popcorn.
Marcus & Movie Tavern: Commemorative pin and a free junior popcorn.
The following theatres offer a commemorative pin and a special concession offer:
Alamo Drafthouse
AMC Theatres
Arclight Cinemas
Consolidated Theatres
Showcase Cinemas
The following theatres will also be hosting opening night fan events, but have not shared if there will be any perks or giveaways:
AmStar
Bow Tie Cinemas
Emagine Entertainment
Epic Theatres

Georgia Theatre Company

Goodrich Quality Theatres
Harkins Theatres
Megaplex Theatres

The Grand Theatre

Xscape Theatres
Check out all kinds of deals on movies in November!
Star Wars Marathons
The following theatres will offer a marathon showing of all 9 Star Wars movie in advance of the debut of Episode 9. There are only a few actual locations where the marathons will be showing, so check your local locations to see if any are near you: AMC, Regal, Cinemark, Marcus Theatres, Showcase Cinemas, and Megaplex Theatres.
Will there be Midnight Showings of The Rise of Skywalker on Opening Night?
Yes. Pretty much everywhere.
Is Star Wars The Rise of Skywalker IMAX Worth Seeing
The easy answer is probably not. No 70mm prints of Star Wars: Rise of Skywalker were made, so all IMAX digital showings will be upscaled using the IMAX DMR process. Because the whole movie is in a 2.39.1 aspect ratio, it will contain no more of an enhanced or improved picture than regular showings. It will still be a great way to see the film, but only because it's a larger screen.
Should I Watch Star Wars The Rise of Skywalker in 3D?
Only if you geek out over 3D films. Very little attention was given to the 3D aspect of this film, so don't expect anything exceptional.
Star Wars: The Last Jedi Tickets
If you're looking to buy Star Wars movie tickets, the upcoming release is The Rise of Skywalker. While some theaters are showing prior episodes of the series as part of a Star Wars marathon, The Last Jedi was Episode 8, so you want to make sure the Star Wars tickets on sale that you purchase tickets for are the correct movie!
Can I see Star Wars: The Last Jedi in IMAX?
Right now we are unaware of any theatres that are showing the previous Star Wars movies in IMAX.
/* php echo do_shortcode('[mashshare]') */ ?>