[mashshare]
Here are some of the best movie deals, coupons, and discounts available right now at all your favorite movie theaters.
Updated for February 2020!
For your convenience, we've also created a page that highlights all the deals that movie chains offer on Tuesdays!
Matinee showings are often the best way to save money on tickets. Check out when each theatre chain offers matinee pricing here.
Top Movie Theatre Discounts in February
Here are what we think are the best deals at some of the theatre chains right now!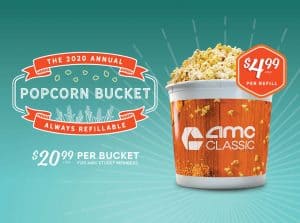 2020 annual popcorn buckets. Available at AMC, Regal, Cinemark, Marcus, Movie Tavern, and Flagship.
Recognize Black History Month with a free Harriet screening at select Regal theatres on Feb. 4 and Feb. 11.
Kids Dreams Family Films on weekends through April. See classic films for $3 at Marcus Theatres & Movie Tavern.
Quick links for each theatre chain:
AMC Movie Deals and Coupons
Many AMC deals are for Stubs members. It's free to join (they do also have a paid tier), and you can read about all the benefits on our review of Stubs rewards. Our analysis found that Stubs Premiere is the best movie rewards program out there.
You should always double check the Offers page on AMC's website because they add new deals all the time, and we'd hate for you to miss out on a bargain!
Deals for AMC Stubs® Members
These deals are available to both the free and paid tiers of Stubs.
AMC Theatres On Demand Streaming at Home
AMC now has their own streaming service where you can rent or buy your favorite movies to watch at home or on your mobile device. Plus you earn AMC Stubs points for rentals and purchases! No subscription required.
Concession Deals with Ticket Purchase
Get tickets on the AMC website or app to see SONIC THE HEDGEHOG 2/13-2/23, and receive a coupon on your receipt for a $5+tax Cameo-size popcorn & 21 oz. ICEE®️!
See GRETEL & HANSEL between 1/30-2/2 and get any large or regular candy, plus a Cameo-size popcorn and fountain drink for $8+tax.
AMC Sweepstakes
F9 World Premiere Sweepstakes

The epic FAST & FURIOUS saga continues in F9! Get tickets through 2/13 for opening weekend, 5/21-5/25, and you could win a trip for two to the F9 world premiere.

Call of the Wild Sweepstakes

Get tickets now through 2/23 to see THE CALL OF THE WILD and you could win a family adventure to the Rocky Mountains. One winner will embark on a family trip to the Rocky Mountains, including tickets aboard a vintage steam train, three nights in a cozy log cabin and more.

Free Popcorn for a Year

AMC Perfectly Popcorn™ is popped fresh daily. Enter now for your chance to win a year of free popcorn!
Tuesday Treats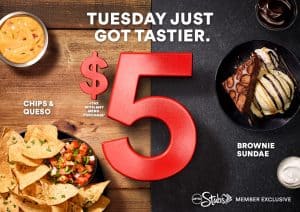 AMC DINE-IN™ theatres now offer chips & queso or a brownie Sundae for just $5 + tax each with any menu purchase on Discount Tuesdays.
Discount Tuesdays
AMC Stubs Insider, Premiere, or A-List members can save big on Tuesday showtimes! Plus, Discount Tuesdays benefits apply when purchasing through Fandango or Atom Tickets. Just make sure you're logged into your AMC Stubs account at the time of purchase to receive the benefit.
AMC Deals Everyone Can Get
Join AMC Premiere, and get $5!
Get $5 Bonus Bucks to use now for tickets, snacks and more when you join or extend your membership to AMC Stubs Premiere!
$6 Mac & Cheese
For a limited time, get a Bacon Mac & Cheese or Bacon Cheeseburger Mac & Cheese for just $6 +tax at AMC locations with expanded food menus.
Gourmet Popcorn Tin
While supplies last, AMC Gourmet Popcorn Tins with caramel and cheddar popcorn are just $9.99 +tax (regularly $19.99). Available in theatre only at participating locations.
Only at AMC Classic Theatres
The 2020 Popcorn Bucket
Get refills on AMC's Perfectly Popcorn for just $4.99 all year when you buy the AMC CLASSIC 2020 Annual Popcorn Bucket. The bucket is $24.99, but if you're a Stubs member, it's only $20.99. This is a fantastic deal for anyone who visits AMC Classics regularly.
Regal Cinemas Deals and Coupons
Some of Regal's deals are limited to participating locations. You should check the specific deal on Regal's promotions page to make sure what is available at the theatre you'll be visiting.
Crown Club Member Exclusives
See all the benefits of Regal's Crown Club.
Regal Crown Club Bonus Credit Offers
Use your Regal Crown Club card to see Gretel & Hansel between 1/30-2/2 and get 500 extra credits!

Link your Regal Crown Club and Disney Movie Rewards, and get 250 Regal credits, and 25 Disney points.
Free Harriet Screening
Experience the unbelievable true story of Harriet Tubman, an American legend. In honor of Black History Month, Regal and Focus Features celebrate her life and legacy with Regal-exclusive Free Screenings on Tuesday, February 4 & Tuesday, February 11 at select Regal theatres.
Birds of Prey Promotions
Get a free copy of Harley Quinn #1 with a Regal-exclusive cover when you use your Regal Crown Club card to see Birds of Prey starting Thursday, February 6, while supplies last!
Members who see the movie in IMAX starting Thurs., Feb. 6 get a free inflatable mallet, while supplies last!
Sony Movie Bonus
Regal Crown Club members who see multiple movies from this set of Sony Pictures titles receive additional rewards including extra credits and free popcorn! Members that see all four movies will receive a digital copy of the titles when they become available! Applicable movies are Charlie's Angels, Jumanji, Bad Boys for Life, Bloodshot.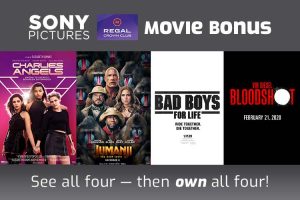 Season of Magic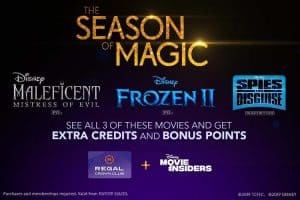 Use your Regal Crown Club card when you see multiple movies from this set of Disney films and receive additional rewards including extra credits and free popcorn! Members that see all three movies will receive bonus Disney Movie Insiders points!
25% Off Candy Every Monday
Get 25% off any candy on Mondays. Does not apply to concessions purchased via the ATOM Mobile App.
50% Off Popcorn Every Tuesday
Get 50% off any size fresh popcorn on Tuesdays with your Regal Crown Club® card! Restrictions may apply. Does not apply to concessions purchased via the ATOM Mobile App.
Extra Credit Wednesday
Download the mobile app and sign into your Crown Club account on Wednesdays to get 20 extra credits. (Valid once per week.)
Regal Crown Club Value Days
At select theatre locations, Regal Crown Club members enjoy discounted movie ticket prices!
Regal Deals for Everyone
Monthly Regal Mobile App Coupon
February's offer is 15% off when you purchase 1 large popcorn, 1 large drink, and a nachos in the same transaction using the Regal mobile app.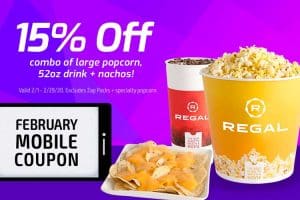 Free Refills
Receive one free refill with the purchase of a large soft drink and/or large popcorn on the same day of purchase.
AARP Perks
Regal offers special promotions for all members of AARP. Just show your AARP card at the concession counter to get $3.00 off the purchase of any size popcorn and soft drink combo. Cannot be combined with Regal Crown Club Rewards.
Any Candy For Just $3.00
All your favorite candies are just $3.00 with the purchase a featured combo.
Promotions and Sweepstakes
Regal always has a variety of sweepstakes going on. This month has contests for Sonic The Hedgehog, and Call of the Wild. Check out their page to see what all is currently available, and hopefully you're one of the winners!
Cinemark Theatres Deals and Coupons
Cinemark reintroduced Discount Tuesdays! Check their discount page to find a theatre near you. Soon they will be switching it so that all their theatres offer the best discount on Tuesdays. Prices will likely vary by location. One change is that you will now need to be a member of their Cinemark Movie Rewards for the discount.
Other discounts are available for students, military, senior citizens, and family days.
Cinemark Movie Club
Members get 20% off concessions and one 2D ticket per month (unused tickets roll over) for $8.99/month (price may vary by location). This is different than Cinemark Movie Rewards, which is a free loyalty program.
Early Bird Discount
Most Cinemark theatres are offering an extra discount for any movie on the first showing prior to 1pm. Expect an additional $2-3 off for going to the early show, so get out of bed and get to a movie to start your day!
Free Refill on Large Fountain Drinks
Get a free same day refill with receipt on a large fountain beverage and a large popcorn! Limited quantities available.
2020 Refillable Cup and Tubs
Available for customers to enjoy discounted refills throughout 2020:
Refillable Cup for $14.99 (Refill for $4.25)
Refillable 130oz Popcorn Tub for $14.99 (refill for $4.95)
Purchase a 2020 Refillable Cup for $14.99 (Refill for $4.25) and a 2020 Refillable 130oz Popcorn Tub for $14.99 (refill for $4.95). Enjoy discounted refills throughout 2020. While supplies last. Not eligible for free refills.
Marcus Theatres and Movie Tavern Deals
2020 Ultimate Popcorn Tub
Purchase a tub for only $25 at select Marcus Theatres or Movie Tavern location and receive unlimited popcorn for only $4.25 per visit through December 31, 2020, plus your first fill is free!
For a limited time only – trade in your 2019 Ultimate Popcorn Tub for $5 off the purchase of the 2020 tub!

Kids Dream Family Film Series
Fridays, Saturdays, and Sundays at 10am from Feb. 21 – Apr. 5, catch your favorite family movies for only $3 per ticket! Special size fountain drinks and popcorn available for $2.75 each.
Feb. 21-13 – Playmobil: The Movie
Feb. 28 – Mar. 1 – Abominable
Mar. 6-8 – Trolls
Mar. 13-15 – The Addams Family
Mar. 20-22 – The Secret Life of Pets 2
Mar. 27-29 – Arctic Dogs
Apr. 3-5 – Ugly Dolls
Black History Month Celebration
$5 admission to the following movies during the month of February:
Harriet (Jan 27 – Feb 10)
Porgy and Bess (Feb 1)
The Color Purple (Feb 23)
Sonic The Hedgehog Family Party
Saturday, February 15 from 10am-12pm these locations are hosting a FREE Sonic The Hedgehog Family Party with fun activities, crafts, and snacks. Movie tickets sold separately.
Disney's Enchanted Tales
See Sleeping Beauty between Feb. 7-9, and Pocahontas Feb. 14-17 for just $6 on the big screen. Kids can get a free popcorn by printing out and coloring a movie-related coloring page from Marcus's website.
Forrest Gump Dinner and a Movie
Sunday, March 1 at 6pm. $25 Admission Includes Movie Ticket & Dinner at select locations:
Any fountain drink (we recommend a Dr. Pepper)
Pea and Carrot Soup
Choice of Dr. Pepper BBQ Chicken Sandwich or Fried Shrimp Basket
Homemade Box of Chocolates
Sunday Concession Discount
On Sundays, Marcus Theatres and Movie Tavern offer a 20% discount on food and drinks.
Concessions Deal for Magical Movie Rewards Members

$2.50 Chewy SweetTarts at Marcus Theatres and Movie Tavern through Feb. 29.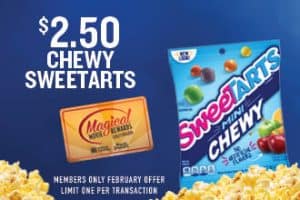 Super Savers at Marcus and Movie Tavern
Marcus Theatres and Movie Tavern provide great entertainment for less through their Super Saver programs as detailed below.
$5 Tuesdays
See the hottest blockbusters for only $5 on Tuesdays. Magical Movie Rewards members receive a free complimentary-size Popcorn, and more great concession specials like $2 Hot Dogs & $2 Candy!
Students
On Thursdays, students of all ages & school faculty can enjoy movies for only $6 and get a FREE complimentary-size popcorn. Now at ALL locations!
Senior Citizens
Every Friday Marcus Theatre and Movie Tavern have special admission prices for anyone age 60 and over – only $6.00 for any show that starts before 5:30 PM.
Military
All active and retired Military members can see a movie for only $7.50 at any time! Thank you for your service!
The Grand Theatre and AmStar Cinemas Deals
Supersaver Tuesdays
Save big every Tuesday at most locations. Every Tuesday, all seats, all day are discounted.
Refill Deals
ONE FREE REFILL on a large popcorn and a large soda – any time, any day, any Grand Theatre or AmStar location!
ONE FREE REFILL of the Big 44oz ICEE or Arctic Blast on Friday nights.
Flagship Cinemas Deals
Premium Popcorn Pail
The 2020 popcorn pail is here, and get a sweet bonus. Buy the 2020 pail once, and refill it all year for only $4 per refill through Dec. 21, 2020!
February deals:
For $17 get a popcorn pail + a large drink.
For $6 get a popcorn pail refill + a Welch's candy for $6.
Harkins Theatres Deals
Musical Mondays
Every Monday in February at 1pm & 7pm, see a different classical musical for only $5 at participating loctations.
Feb. 3 – The Unsinkable Molly Brown
Feb. 10 – Yankee Doodle Dandy
Feb. 17 – Hairspray
Feb. 24 – The Phantom of the Opera
Popcorn Perks
Apply Popcorn Perks to your My Harkins Awards membership for $30 per year and receive a FREE medium popcorn whenever you see a movie with the purchase of a movie ticket. Can be purchased for each member of your family.
Loyalty Cup
Purchase a loyalty cup for $6.75, and enjoy $2.00 soft drink refills every time you bring your Loyalty Cup to the movies through Aug. 31, 2020.
Tuesday Night Classics
Every Tuesday at 7pm see a classic movie for only $5!
Alamo Drafthouse Cinemas Deals
Each location of Alamo Drafthouse features different highlights, specials, and discounts during the month. Check the location nearest you for their deals!
Goodrich Quality Theaters Deals
GQT Rewards members always get 15% off concession purchases. And 30% between 4-6pm. Discounts exclude alcohol.
Showcase Cinemas Deals
Gift Card Offer
Get a $5 concession card for every $25 gift card purchase!
Georgia Theatre Company Deals
GTC is currently featuring a classic film series called FLASHBACK CINEMA at select theatres. A different classic movie plays each week on Sundays and Wednesdays. No matter how many times you've seen a great film, there's nothing like experiencing it on the big screen!
Theatres Without any Published Offers
The following theatres either do not offer, or do not list, any special offers this month. If you know of any, please let us know in the comments!
B&B Theatres
Bow Tie Cinemas
Landmark Theatres
Malco Theaters
Premiere Cinemas
Studio Movie Grill
Regency Theatres
That's everything we could find on deals for this month. Know of any we missed? Have any other ticket or concession hacks or discount strategies? Post them below!
/* php echo do_shortcode('[mashshare]') */ ?>