[mashshare]
Looking for the best deal on movie ticket prices? Then you should always consider going to the movies on Tuesdays! Because it is historically the slowest day of the week for movie theaters, most chains offer discount tickets and concessions.
These days, most of the best deals require you to be a member of a theater's rewards program, but that's okay because they are all free to join! Check out our list of which loyalty program have the best rewards, and if there are any worth paying for.
But back to our topic:
Cheap movie tickets!
Tuesday is the one day of the week where you can get matinee pricing in the evenings. Even most of the discount, or "dollar", theatres have lower prices then. This page provides (almost) all the movie chain ticket prices for Tuesdays.
Please note: Discounted prices may vary by location, and as always, there is a surcharge for premium formats (i.e., Dolby Cinema, IMAX, 3D, etc.). Certain holidays may be excluded. Movietheaterprices.com is not affiliated with any theatres.
The 3 Best Tuesday Movie Deals

Marcus Theatres and Movie Tavern take first with $5 tickets at nearly all locations, a free complimentary size popcorn, and great concession discounts every Tuesday!
While there aren't many locations, Georgia Theatre Company is a close second with both $5 tickets, and $2 popcorn and $2 soda!
Regal's prices have increased, and the discount isn't available everywhere, but their 50% popcorn discount edges them into third place.
AMC Discount Tuesdays
All showtimes at AMC are discounted on Tuesdays. However, what used to be AMC $5 Tuesdays has been rebranded as AMC Discount Tuesdays. And for exactly the reason you are thinking: few AMC locations are $5 anymore. Most that we checked are around $7-8, which still isn't a bad price. Just not the heavy discount you'd expect to draw a large crowd.
To get the best deals at AMC you need to be a Stubs member, but even the free tier offers the same Tuesday benefits as the paid tier. Tickets may be purchased online, including through AMC's website or app, Fandango, and Atom Tickets (you must be logged into your Stubs account).
At some locations, matinee prices are still cheaper than evening prices.
AMC is currently offering discounted IMAX tickets on Tuesdays. AMC Stubs members can save up to 50% IMAX tickets on Tuesdays.
When visiting the concession stand, AMC Stubs members can get a $5 Cameo Combo (cameo sized fountain drink and popcorn). This includes both standard AMC theatre as well as AMC CLASSIC theatres.

Regal Value Days
In the summer of 2019, Regal discontinued their Regal Discount Days, which offered discounted tickets on both Tuesdays and Sundays. Instead, the discounted day varies by each location — oh, and the discount isn't as much as it used to be.
Now, around 200 Regal Theater locations offer discounts on Tuesdays ranging from $5-7. There are a few that go as high as $8 or $9, but they are in the more expensive cities. You must be a Regal Crown Club member to get the savings.
At least they offer all sizes of popcorn at 50% off on Tuesdays, so if you need to feed that movie popcorn craving, you can do so at half price!
Discount Days at Cinemark
Cinemark is another chain that is allowing different locations to offer their lowest prices on different days. But our research shows that the majority of Cinemark locations are still offering their best all-day deals on Tuesdays. Ticket prices mostly run $5-7.
While it's on Mondays, not Tuesdays, your real deal at Cinemark is at a few of their second-run locations where they have a promotion called Reel Family Time, and tickets are just $1.25 per person for parties of 3 or more. These are locations that don't have the newest releases, so the prices are already discounted, but we think it's hard to beat $1.25 for a movie ticket these days! That's even cheaper than Redbox!
Alamo Drafthouse T.A.C.O. Tuesday Deals
About half the Alamo Drafthouse locations participate in what they call T.A.C.O. Tuesday (Tickets Are Cheaper On Tuesday). And they aren't kidding — here is one chain where $5 is $5. The majority of locations where this is offered tend to be in the Southern U.S., but check your nearest locations to see if they're participating!
B&B Theatres Discount
On Tuesdays, Backstage Pass members (B&B's loyalty program) receive $2 off tickets AND $2 off any size popcorn and soda purchase. Some restrictions apply.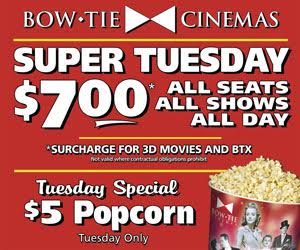 Bow Tie Cinemas Tuesdays
Criterion Club members get $7 tickets for any regular movie all day on Tuesdays. Not valid in Manhattan, and certain New Jersey locations are only $6. They also have a great concession deal: get a large tub of popcorn for $5.
Flagship Cinemas Deals
All tickets are matinee prices all day on Tuesdays.
$2 Tuesdays at Georgia Theatre Company
$5 Ticket Tuesdays are available at 8 GTC locations. But the even better deal is available at all GTC theaters! GTC Reel Rewards members can get $2.00 Small Popcorn and $2.00 Small Drink every Tuesday at all locations! (Excludes ICEES)
Goodrich Quality Theaters Deals
GQT has discounted movies every Tuesday, but GQT Rewards members get the best deals, saving even more. Ticket prices are only $5-6, depending on location, saving $1-2 from regular prices.
Harkins Theatres TNC
While not offering Tuesday discounts on regular movies, Harkins Theatres offers Tuesday Night Classics (TNC). These are special showings of classic films on the big screen at 7pm every Tuesday for only $5. Watch your favorite films again the way they were meant to be seen.
Check here for films and locations.
Marcus Theatres & Movie Tavern Deals
This is easily the best Tuesday deal available if you enjoy concession snacks during the movie. Tickets are only $5 every Tuesday at participating Marcus and Movie Tavern locations We've checked, and pretty much every location participates. PLUS, for Magical Movie Rewards members, the $5 price includes a free complimentary-size popcorn!
Hot dogs and select candy are $2. Additional discounts are available on concessions at Marcus and menu items at Movie Tavern.
Studio Movie Grill $5 Tuesdays
All locations feature $5 Tuesdays, when all of your favorite Hollywood movies are only $5 all day long!
The Grand Theatre and AmStar Cinemas Deals
Super Saver Tuesdays at both The Grand and AmStar is offered at most locations. Ticket prices are discounted all day every Tuesday. Price varies by location, but our research finds they run about $6-7.
The following theatres do not list any consistent Tuesday deals:
Landmark Theatres
Malco Theatres
Premiere Cinemas
Regency Theatres
Showcase Cinemas
That's everything we could find on Tuesday deals. Did we leave out your favorite chain? Know of any deals we missed or anything that's changed? Post below!
/* php echo do_shortcode('[mashshare]') */ ?>