Regal Crown Club Rewards and Regal Unlimited!
About the Regal Crown Club Loyalty Program
Regal Cinemas Crown Club is Regal's free loyalty program whose tagline is simply: Earn Credits; Choose Rewards. But there's so much more! More choices. More rewards. PLUS extra discounts and offers in their app. It's the only rewards program that gives you points just for logging into their app!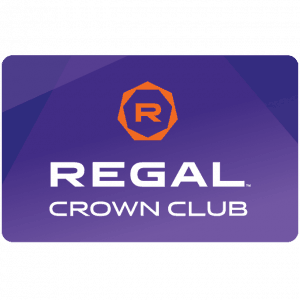 See if we ranked Regal Crown Club as one of the best movie theater rewards programs.
Regal rewards customers for attending movies at participating locations, including all chains under their umbrella: Regal Cinemas, United Artists and Edwards Theatres. Members earn credits when they purchase movie tickets and concessions. Then they can redeem their credits for rewards like admission tickets, concessions, and movie merchandise.
Other benefits that Regal offers throughout the year may include discounts, coupons, sweepstakes, special offers, and invitations to sneak previews of upcoming films at select Regal Theatres.
To make their loyalty program different from AMC's, Regal only offers just one single, free tier while AMC has 3 tiers (only 1 free). The big differentiator is that the more movies you see in a year at Regal, the faster you can earn rewards. Regal has what is called their Crown Jewel tiers, which are earned as you see more movies.
Crown Jewel Bonus Program
Jewel Statuses are earned with each visit to a Regal Theatre, and allow frequent moviegoers to earn even more rewards faster.
Emerald Status (6th visit): 250 bonus credits for every visit
Ruby Status (10th visit): 500 bonus credits for every visit
Diamond Status (20th visit): 1,000 bonus credits for every visit
Once a status is achieved, it is maintained for 12 months; but as you move to a higher status with additional visits, you would then maintain that tier for the next 12 months.
Crown Club Benefits/Rewards
Cost: Free ($0)
Credits: 100 credits for $1 spent on admission tickets or concessions
Credits may be redeemed for rewards in 3 ways:
The Online Regal Rewards Center offers exciting rewards, including concessions, admission tickets, sweepstakes entries, posters, apparel and merchandise
Regal App: Admission tickets and certain concessions rewards are available via the app
Point of Sale: Limited rewards (e.g., admission tickets, certain concessions rewards) are available at the box office or concession stand of Regal Theatres
Here is a list of the current movie ticket and concessions rewards available. Since we at Movie Theater Prices are all about getting the best deal, as you can see, redeeming your reward in the app or online allows you to get more for your rewards buck.
| Reward | In the App or Online | At a Theatre |
| --- | --- | --- |
| Soft Drink Upsize | 1,500 credits | not available |
| Popcorn Upsize | 2,000 credits | not available |
| Popcorn (Small) | 6,000 credits | 7,000 credits |
| Soft Drink (Small) | 7,000 credits | 8,000 credits |
| Movie Ticket (2D) | 18,000 credits | 20,000 credits |
| Movie T-shirts | 20,000 credits | n/a |
| Movie Ballcaps | 12,000 credits | n/a |
| Movie Posters & Prints | 500-3,500 credits | n/a |
| IMAX Posters | 58,000 credits | n/a |
| | | |
Movie Merchandise Rewards
In addition to movie admission tickets and concessions, Regal Crown Club allows you to redeem your earned credits on a wide variety of other items. You can purchase t-shirts, ball caps, prints, posters, and figurines from current and recently released movies. Digital rewards include items such as music downloads, digital comics, and entries into sweepstakes. They even run sales on items for 50% or more off the original credit redemption price!
The movie merchandise rewards refresh regularly to offer items related to movies currently in theaters, so if you are eagerly anticipating an upcoming movie, it might be worth saving your credits for something unique to that movie! The rewards offered always vary by movie, and often have unique items related to the movie. For example, movies about pets might have pet-related rewards, and sci-fi movies might have technology-related rewards.
Credit and Reward Expiration
Credits expire one year from the date they are earned. Drink and popcorn rewards generally expire 60 days after redemption and movie rewards generally expire 90 days after redemption. Special limited time offers may have a shorter redemption window.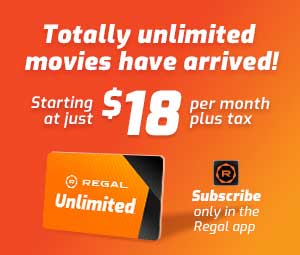 Regal Unlimited™
In July 2019, Regal launched their version of MoviePass, formally titled: Regal Unlimited™ Movie Subscription Pass. The pricing options are:
Regal Unlimited: $18/month, which includes over 200 select theatres
Regal Unlimited Plus: $21/month, for access to more than 400 Regal theatres
Regal Unlimited All Access: $23.50/month gets you access to 550+ Regal locations
Regal has a page that lists which theatres are available for each tier. Unlimited or Unlimited Plus will be fine for most people. It's only in larger metropolitan areas such as California, New York, and Boston. You can join the lower tiers and pay a surcharge if you opt to see a movie at a Regal location that is not included in your plan.
One important note is that this is an ANNUAL PLAN, which means you MUST join for a full year. You can pay for the year all at once, or monthly, but even if you cancel within the first year you're still on the hook for the entire year's cost.
The Unlimited plan allows you to see any movie at any time at any participating Regal cinema. Joining requires being a member of the Regal Rewards program, so you receive all those benefits as well; and your subscription cost earns you Regal Rewards points. As you would expect, only 2D movies are included. For an additional fee per movie, you may see premium formats such as 3D, IMAX, and 4DX.
There are no blackout dates for movies when using Regal Unlimited™. Other perks include 10% off any concessions purchase, and a free large popcorn and large soft drink on your birthday.
While there are fewer Regal theatres than AMC, Regal's subscription program is a better deal for frequent moviegoers because AMC's limits you to only 3 movies per month. Regal's is, as it says in the name, unlimited!
The only way to join is using the Regal app, but you can obtain tickets at the box office, kiosk, or online.
More About the Programs
One way Regal sets themselves apart from their closest competition, AMC, is that in celebration of their loyalty, Regal awarded the top 2018 Crown Club members from each theatre location nationwide with an exclusive custom card skin in the Regal mobile app, as well as the opportunity to earn 1,500 bonus credits and a free small popcorn weekly in 2019. These are just some of the many ways Regal thanks their most loyal moviegoers for making Regal the best place to watch movies.
Regal's top Crown Club member in 2018 averaged 26 visits monthly (a total of 316 movies) to Riverview Plaza IMAX & RPX in Philadelphia, PA (and preferred Junior Mints from Regal concessions). Stated Ken Thewes, CMO at Regal. "As we thank our loyal, avid moviegoers for 2018, we are excited about another blockbuster year at the movies in 2019 with more opportunities to recognize our members of the industry's leading loyalty program." Can't wait to see how they reward their top attendees of 2019 next year!
For a full list of top Crown Club winners by location, please visit www.regmovies.com/promotions/top-customers.