What is IMAX? Your Questions Answered Simply!
The IMAX movie experience is much different from a normal theater experience. For example, an IMAX screen is much larger than a standard movie screen, and the image resolution is much higher. "What is IMAX" is a very big question, and we try to cover all the basics here.
Started in 1972, IMAX has long led the way with ground-breaking technology and film experiences, such as IMAX 3D, laser projection, IMAX VirtX, IMAX DMR, and IMAX Stereoscopic. But what exactly is an IMAX theater? Basically, there are 4 things that define IMAX:
IMAX is a cinema format
IMAX uses a larger screen
IMAX screens are wider than traditional screens
IMAX screens have more pixels and resolution than standard movie screens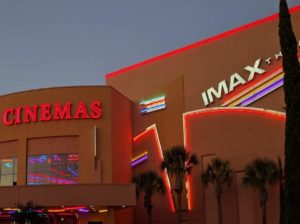 What is the Difference Between an IMAX Cinema and a Normal Cinema?
An IMAX film is projected on a much larger screen with much greater resolution — about 20 times the resolution of a standard cinema screen. Another difference between standard and IMAX is that an IMAX theater has several special features that make the viewing experience more immersive.
This is where it gets a little tricky. The aspect ratio for IMAX films is 1.43:1 versus standard films, which are 16:9 for ultra-wide displays. Per IMAX, this means that the screen is up to 40% bigger. 1.43:1 is a squarer format, which means you would see more of the picture at the top and the bottom of the screen. When displayed on a typical widescreen TV, these films would have more of a black bar at the top and bottom. (source)
However, IMAX films may also be shot in 1.90:1 expanded aspect ratio. This allows the films to cover more of the top and the bottom of the screen when converted to display on normal cinema screens or on wide screen televisions.
IMAX films are shot using 70mm film while normal movies are typically shot using 35mm film. With this higher size, IMAX films can contain 18k lines of resolution whereas 35mm can only do a maximum of 6k. (source)
As you can see, there is quite a difference between IMAX vs normal movies. And you do have to see a movie in IMAX to fully appreciate it. Which leads us to…
Are All IMAX Theaters the Same?
In some ways, virtually no IMAX theater is the same. Everything from the screen sizes, to the amount and quality of seating, to the sound, to the actual shape of the screen will vary. One thing is for sure, though, you're sure to get the highest quality experience when watching an IMAX film!
The typical IMAX Screen Size is 52 x 72 feet (16m x 22m), but every few years it seems they are debuting a new, larger screen (see below for the latest largest IMAX screen). So now the screen sizes are all over the place – however, the width-to-height aspect ratio are consistent.
What is the Biggest IMAX Screen?
The largest IMAX Screen in the US is the AMC Lincoln Square in New York City, standing at 75 feet high by 101 feet wide. The AMC Metreon in San Francisco is just slightly smaller. This is about the height of a 7-story building!
See our article Biggest Movie Theater in the World for the largest IMAX screen in the world.
Types of IMAX
What is an IMAX Dome Theater?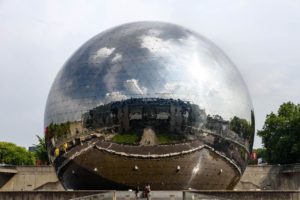 Dome movie theaters use a video projection technology capable of projecting an image across not just the screen wall of a theater, but across the walls and a domes ceiling to provide an incredibly immersive experience.
IMAX dome theaters take an already impressive technology, and enhance the experience. IMAX dome theaters usually show films that are educational, documentary, or scientific in nature, but some more mainstream films have made their way to dome theaters.
See our list of IMAX theaters in the US for a full list of dome theaters in the US.
What is a Real IMAX Theater?
In the early 2000s, the IMAX corporation started working with theater chains to convert regular screens into larger "IMAX" screens. However, most Hollywood movies weren't, and aren't, filmed with an actual IMAX camera.
The films are digitally remastered for an improved image that will show nicely on one of these mini-IMAX screens, but theatergoers are not getting the true IMAX experience.
See a really good, detailed article about this lower quality here.
IMAX Comparisons
What is the Difference Between IMAX and Omnimax?
Omnimax is a usual IMAX-quality film, with the following additions: it uses fisheye lenses to provide the aspect necessary for dome projection, the center of the lens is slightly higher than typical, and the film itself is projected 100 degrees above and 20 degrees below perfectly-centered seats. (source)
IMAX vs Dolby
You're not going to be disappointed with either format, but audio tends to be better for Dolby theaters (they did start as an audio company after all), but most will say that the Dolby Atmos format is the best moviegoing experience you can get. Personally, I find this preference to vary by individual, so you really need to see a film in each kind of theatre, and decide for yourself.
Here's an example of the IMAX and Dolby formats at the AMC Metreon in San Francisco:
| | | | | | |
| --- | --- | --- | --- | --- | --- |
| | Format | Screen Height | Screen Width | Brightness | Contrast Ratio |
| Metreon IMAX | IMAX Laser | 76 | 98 | 22 | 8000:1 |
| Metreon Dolby Cinema | Dolby Cinema | 25 | 58 | 31 | 1000000:1 |
| Van Ness IMAX | IMAX Digital | 23 | 48 | 20 | 2000:1 |
| Standard Cinema | Digital 4K | 19 | 45 | 14 | 2000;1 |
FAQ
What Does IMAX Stand For?
There is actually some debate around this. Most say the IMAX meaning is Image MAXimum Experience. However, some claim IMAX is a word made up just for the film format and company name.
IMAX Ticket Price & Theater Cost
While we can't list ticket prices for every IMAX theater, we did the research, and here are the typical price ranges in the US for commercial IMAX movies.
Adult $16.00-$18.00
Senior $8
Child (ages 3-12) $5-8
[mashshare]