Showcase Cinemas Starpass, Popcorn Club, Showcase Subscribe
About Showcase Cinemas Rewards Programs
Showcase Cinemas offers a variety of rewards and membership programs. Showcase Starpass is a free rewards program where members earn rewards for Showcase purchases. Popcorn Club is designed for children age 11 and under and their families. Showcase Subscribe is a premium membership offering that allows members to see 2 or 3 movies a month for a single fee.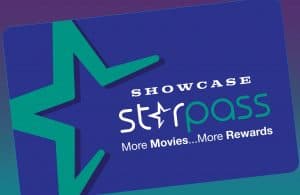 Showcase Starpass
Cost: Free ($0)
Points: 10% on nearly every purchase including tickets, food and beverage
Benefits:
Receive a $5 reward for every $50 spent on eligible purchases
One same-day free refill on large popcorn and large soft drink purchases
$2 off established ticket pricing for Tuesday showtimes at participating theaters
Free regular popcorn for your birthday
No service fees for ticket purchases made online
Popcorn Club
Cost: $10 annually
The Popcorn Club is an exciting club for children and families offering great prizes, exclusive events, and special offers all year long. The club is for children age 11 years and younger, and is available at select Showcase Cinema de Lux, Showcase Cinemas and Multiplex Cinemas.
Benefits:
An official membership card loaded with a FREE movie ticket
1-2-3 Go Box, which includes a popcorn, soft drink or ICEE, and special size candy
An exclusive Popcorn Club Backpack
Free movie ticket on your Birthday valid at all participating theatres
Special offers, exclusive family events, advanced movie screenings, and other great prizes.
Showcase Subscribe
Showcase Subscribe is a subscription program where members can see either two or three movies every month for one affordable monthly fee. Members can make advance ticket reservations on the Showcase Subscribe mobile app. Showcase Subscribe members receive benefits on their monthly membership fee. Showcase Subscribe requires a minimum3-month commitment.
Plans:
$11.95 for 2 2D tickets per month
$14.95 for 2 Premier screen tickets per month (3D, Showcase XPlus, and IMAX)
$16.95 for 3 2D tickets per month
$19.95 for 3 Premier screen tickets per month (3D, Showcase XPlus, and IMAX)
Compare movie rewards from all the chains.